IDRIS MUHAMMAD – POWER OF SOUL – 1974 KUDU RECORDS
In questo album fondamentale, c'è una tal concentrazione di personaggi, informazioni, connessioni e rimandi, da poterlo ritenere un opera colossale. A partire dal leader, Idris Muhammad, fino ad arrivare al dream team di musicisti coinvolti, al leggendario tecnico del suono, ed infine alla label che è diventata una sorta di culto.
Partiamo dal Mr Leo Morris, aka Idris Muhammad, batterista di New Orleans che si fece le ossa nella sua città natale accanto ai Neville Brothers, per poi trascorrere l'adolescenza nel circuito Rhythm and Blues, suonando con Curtis Mayfield e Sam Cooke, fino al trasferimento a New York, la conversione all'Islam e relativo cambio di nome. Qui avviene lo slancio della sua carriera, tale da portarlo ad essere il gigante batterista, parte imprescindibile accanto a personaggi come George Benson, Freddie Hubbard, Ahmad Jamal, Pharoah Sanders e Joe Lovano, giusto per nominare i più noti. Un culto per il ritmo funk, pari ai batteristi simbolo del genere, come Bernard Purdie e James Gadson, tutti colossi campionati in un infinita serie di brani hip hop, drum and bass ed house.
La squadra di musicisti che accompagnano il Nostro in 'Power Of Soul', è formata da altri giganteschi esponenti del jazz e del jazz funk. Parliamo di Bob James al piano elettrico (altro strumentista che ha accresciuto il suo conto in banca, grazie ai diritti dei propri brani campionati), Groover Washington Jr al sax soprano e tenore, Randy Brecker alla tromba, Gary King al basso, Ralph McDonald alle percussioni e Joe Beck alla chitarra. Già con queste informazioni l'entusiasmo è alle stelle…ma ancora deve venire il bello, cioè l'etichetta su cui è stato rilasciato l'album, ovvero la Kudu Records, sussidiaria funk jazz della nota CTI records, entrambe creazioni di quel magnifico produttore che è stato Creed Taylor, colui che ha dato vita alla Impulse! Records. Senza esagerare, Mr Taylor è la persona che ha lanciato o accelerato carriere di musicisti indispensabili per la storia della musica del secolo scorso, come John Coltrane, Eumir Deodato, Airto Moreira, George Benson…
Infine, ciliegina sulla torta, il venerato ingegnere del suono dietro la registrazione di questo capolavoro, ossia Rudy Van Gelder, il fonico della storia del jazz, con oltre 2000 album registrati, mixati e masterizzati per la Blue Note, Prestige, Verve, Impulse! e CTI records.
In questo long-playing ci sono solo quattro tracce, due per lato, otto minuti di durata media ciascuna. Si inizia con il brano che intitola il disco, cioè 'Power Of Soul', una cover funk della composizione di Jimy Hendrix, che procede sorniona con assoli da pelle d'oca uno dietro l'altro, prima al tenore Groover Washington, e di seguito Joe Beck che utilizza la chitarra distorta per omaggiare il compositore. Inizia con questo anche la citazione dei campionamenti…si ritrovano spezzoni di questa traccia in opere di Notorius BIG e DJ Food.
Segue 'Piece Of Mind' ed entriamo in paradiso. Un inizio così evocativo da diventare parte integrante di generi come il Drum & Bass (Roni Size in Music Box), Trip Hop (Visit Venus) ed Hip Hop (Madlib). Classe infinita: incedere felpato con un funk pastoso ed intriso di groove ipnotico, irrobustito dall'interplay perfetto tra Idris Muhammad e Groover Washington nell'assolo di quest'ultimo al sax soprano. Segue un sincopato Randy Brecker, e finisce con una perfezione magica Bob James ed il suo tocco squisito al Fender Rhodes. Una nota speciale, il quartetto d'archi che dona quel sapore da colonna sonora al tutto…ma che purtroppo non è citato nei credits del disco.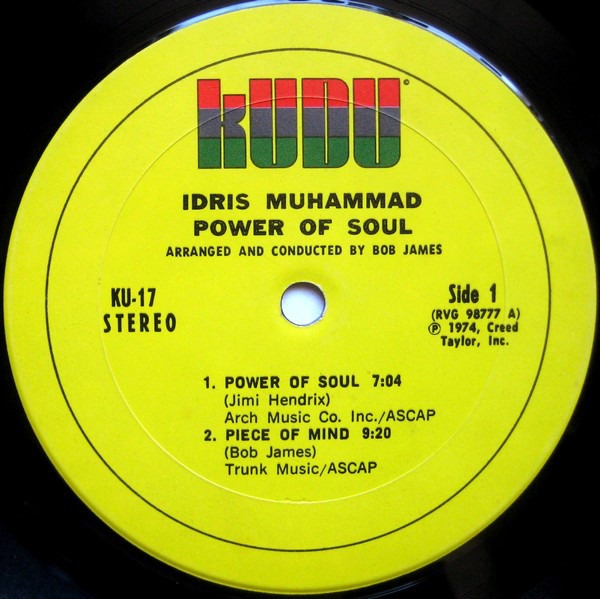 Si apre la facciata B con 'The Saddest Thing' composizione del chitarrista Joe Beck, una sorta di ballad fusion che potrebbe benissimo essere ascoltata in un classico film degli anni settanta a sfondo sentimentale.  E' sull'ultimo brano dell'album che vale la pena spendere più parole, e cioè 'Loran's Dance': un inizio anch'esso evocativo, tale da essere utilizzato da Fat Boy Slim per la sua 'The Week End Starts Here', o dai Beastie Boys nel loro album 'Paul's Boutique'. Anche qui sembra di essere sul velluto, con un funk sottile che cresce piano piano, ma con una tensione di ritmo tale da ricordare il più recente Robert Glasper. Due assoli concessi ai fiati, entrambi da brivido, prima Randy Brecker che lancia tutto nell'iperspazio, e di seguito Groover Washington che sottolinea il groove robusto con le sue prodezze al tenore. Siamo arrivati alla fine di questo viaggio dentro una delle opere più notevoli, a mio modesto parere, della discografia di Idris Muhammad, e della storia intera del jazz funk. Non un disco per la pista da ballo più sostenuta, ma un album d'ascolto che fa muovere il piedino, e che fa salire emozioni importanti. Chiudo con una nota di colore…se ascoltate bene, ogni tanto si percepiscono mugugni di compiacimento, come 'mmmhh', o 'uuooh'…è il grande Idris che si eccita del suo groove, e di come l'amalgama sonoro abbia quella formula che diventerà materiale per il motore di altre tantissime tracce negli anni a venire, grazie ai campionamenti.