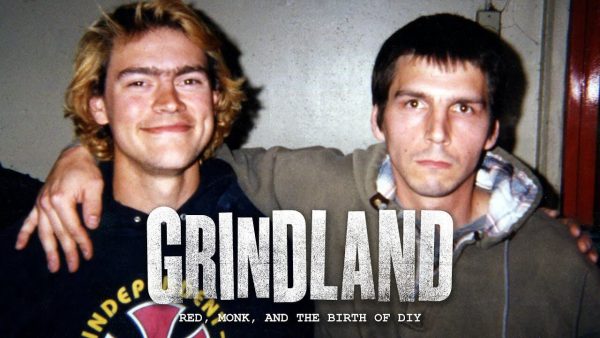 You knew it was a Grindline Park when the bowl was massive, the concrete was incredibly smooth, and the coping was fat af lol.
La storia di due pionieri del DIY per quello che riguarda gli skatepark, Red & Monk insieme ad un gruppo di amici rivoluzionarono e costruirono da zero luoghi celebri per la storia della tavola. "Grindland" parla di questo, il documentario realizzato da Michael Burnett e Matt Bublitz per Trasher Magazine ci porta nella seconda casa di tanti ragazzi che ancora oggi passano il loro tempo ad allenarsi sul cemento modellato di Mark Scott aka RED e Mark Hubbard aka MONK.
Monk purtroppo ci ha lasciato nel Giugno 2018, al motto di "I want to pave the world" ha fatto la storia al punto che alcune città USA stanno cominciando ad attuare l'idea di Hubbard di micro spot sparsi nel tessuto cittadino. Insieme a Red iniziò una seconda generazione di skatepark, rispetto a quelli costruiti negli anni '70 avevano una cosa più importante di tutte: erano gratuiti. Oltre a quello i due cominciarono a costruirli in diverse città creando un hype non indifferente tra le varie crew cittadine degli States, un Grindland Park o Dreamland Park è un privilegio per ogni skaters con la voglia di imparare in fretta.
Washington, Oregon e Colorado resero pubblici gli skate park nella metà degli anni'90 quando ancora per strada si faceva la guerra ai ragazzi sulla tavola, a Lincoln City in Oregon nel '98 i due compiono un vero capolavoro, e proprio il documentario si sofferma parecchio su questo spot di rara bellezza. Si parla ovviamente del Burnside a Portland voluto da RED e amici nel '90, Hobo Camp com'era soprannominato lo spazio sotto il ponte dove si ritrovava la crew era meta di senza tetto, Scott e Co. si accordano con i lavoratori alla rampa d'accesso del ponte per farsi dare del cemento, nasce così Burnside Camp che ancora oggi fa di Portland la capitale dello skate. Non manca la parte spesa nel ricordare Monk, quella più triste. Buona visione !