Per il mio primo articolo nella rubrica Venticello voglio riportarvi, attraverso tre favolosi dischi d'esordio usciti nel 1981, all'epoca d'oro del synthpop britannico e del Blitz Club. Situato nel quartiere londinese di Soho, il Blitz Club fu il tempio del movimento new romantic: il locale si distingueva per una musica synthpop dalla tinte dark e ambigue e un'attentissima quanto stravagante selezione all'ingresso (il Berghain non ha inventato nulla). Se eri banale e ordinario al Blitz non potevi entrare. Non dovevi essere troppo elegante, ma neanche un punk. Dovevi essere qualcosa di totalmente innovativo. Questi erano i dettami di Steve Strange, devoto dei Kraftwerk e di Bowie e fondatore del gruppo dei Visage, nonchè capo e "arbiter elegantiarum" del Blitz.
---
"NON-STOP EROTIC CABARET", SOFT CELL, SOME BIZZARE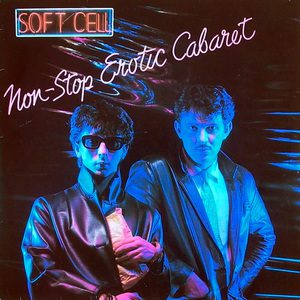 Un disco che ha posto le basi del synthpop degli anni '80 e ancora oggi influenza i produttori di musica dance. Un'opera che nella musica e nei testi riflette tutte le ossessioni del genio tormentato di Marc Almond: come una passeggiata in quartiere a luci rosse dove nulla è proibito, dalle droghe sintetiche al sesso più ambiguo, guidati dalla voce calda dello stesso Almond e dagli strabilianti synth di David Ball, tra cui lo strepitoso Ned Synclavier di proprietà del produttore Mike Thorne e considerato a quel tempo il "non plus ultra" dei sintetizzatori analogici. Tainted Love, il punto di forza del disco dei Soft Cell, che diventò anche uno dei 45 giri più di successo della storia, è un riadattamento di un pezzo soul di Gloria Jones. Straordinaria anche la cover di Where Did Our Love Go delle Supremes, la cui dolce melodia viene tinta di nero da un synth profondo e potente.
https://www.youtube.com/watch?v=78_vTSg_I88
---
"JOURNEYS TO GLORY", SPANDAU BALLET, CHRYSALIS
L'esordio discografico della band londinese, destinata a rivaleggiare nelle classifiche con i Duran Duran lungo tutto il decennio. Un album secco e minimale, ma fantasioso ed elegante. Difficile catalogarlo in un genere: troppi sintetizzatori per il post punk, sonorità molto più ricercate rispetto al classico pop rock da classifica. Non resta che definirlo new romantic, più che un genere un movimento, di cui gli Spandau Ballet furono il gruppo di maggior successo. I membri degli Spandau (tutti figli della "working class") frequentavano il Blitz e nel tempio di Steve Strange fecero il loro esordio nella musica che conta. Il momento in cui suonarono To Cut A Long Story Short, uno dei più grandi gioielli della musica britannica degli anni '80, rimane tuttora leggendario poiché riuscì a sbalordire l'esigente clientela del Blitz, abituata alle novità più stravaganti e non facilmente impressionabile.
---
"DURAN DURAN", DURAN DURAN, EMI
Appena un anno prima dello sfavillante e super glamour RIO, ecco l'album d'esordio dei "Fab Five" di Birmingham. Il disco uscì quando erano solamente dei ragazzini influenzati da Bowie e i Roxy Music, dal movimento new romantic e dai sintetizzatori, ma in brevissimo tempo tutto cambiò: i Duran Duran posero le fondamenta per il loro successo senza tempo che dura ancora oggi. Un album pieno di hit cupe e futuristiche dai testi affascinanti ed enigmatici, con forti influenze della letteratura e del cinema di fantascienza. Ricordiamo infatti che è il nome Duran Duran deriva dal cattivo del film di fantascienza del 1960 Barbarella. Fra le tante hit si nasconde Night Boat, una tenebrosa ballata che vi farà approdare verso lidi ignoti e misteriosi guidati dai sintetizzatori di un formidabile Nick Rhodes.
---
VENTICELLO è la rubrica per i curiosi e più assidui investigatori di nuove uscite e vecchi classici di qualsiasi genere e provenienza. Buona musica in supporto fisico e dove trovarla con un venticello, appunto.