PELLEGRINO – "PERIPLO"
Questo mese per Venticello vi suggerisco due dischi "Made in Italy" appena usciti. Il primo, rilasciato a metà Giugno, è già un classico moderno: "Periplo" di Pellegrino prodotto dalla Early Sounds. Sono diverse settimane che non posso fare a meno di questo gioiello… In realtà sono tre anni suonati che seguo appassionatamente le avventure dalla Early Sounds di cui Pellegrino Snichelotto è co-fondatore insieme a Massimo Di Lena e Dario Di Pace, tutte e tre già conosciuti da tempo, sopratutto nel circuito techno. Periplo è il debutto di Pellegrino sulla sua label e non tradisce in nessun modo le aspettative. Jazz-funk misto a sonorità etniche, con un'attitudine cosmica che ci proietta davvero in un'altra dimensione, fatta di bellezza e soddisfazione per l'ennesimo progetto Italiano di assoluto spessore. Paradossale dover consigliare una sola traccia di sei (magnifiche) ma se proprio devo, credo che "In Deriva" ci sia quel guizzo in più per la "semplicità" della stesura e il groove inarrestabile.
---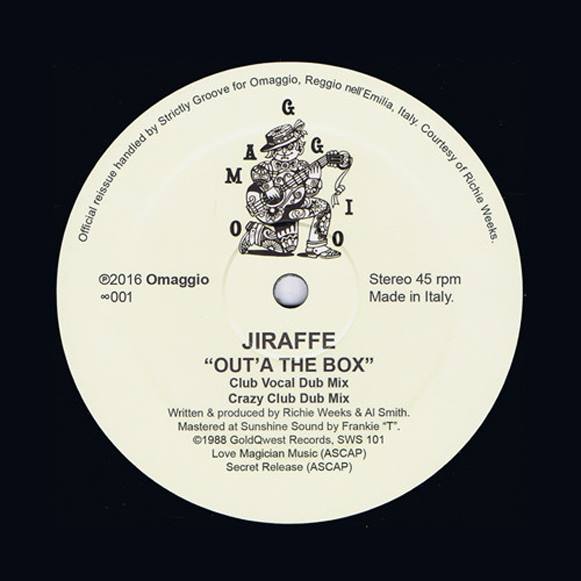 JIRAFFE "OUT'A THE BOX"
Se "Periplo" è un classico moderno "Out'A The Box" è un classico tra i classici… Ristampa ufficiale operata dalla label Omaggio che si prende in carico di riportare alla luce uno dei massimi esempi del periodo proto-house. La prima incisione del 1988 è firmata da Jiraffe, alias del leggendario Richie Weeks, fondatore dei Weeks & Co. band newyorkese con alla voce una certa Jocelyn Brown e testa di serie di etichette come Prelude, Salsoul, Atlantic, nonché co-producer di brani per Instant Funk, Hot Cargo, etc. Il disco originale e la ristampa differiscono solo nella grafica del centrino, mentre le due tracce sono identiche, con il provvidenziale intervento di restauro che migliora impercettibilmente una certa saturazione delle alte frequenze sul già ottimo master originale. Due versioni molto simili, con il lato B sottratto di buona parte del "cantato" ma con una dinamica (forse) più funzionale per il dance floor, come vuole la tradizione.
---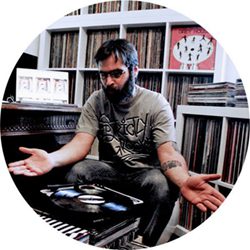 "VENTICELLO" di Marco Febbraro, è la rubrica mensile dedicata a chi preferisce la musica in formato fisico (pur senza disdegnare il digitale) e ai DJ che hanno un budget limitato (20€?) e poco tempo da dedicare all'attività di ricerca ed acquisto. Oppure, ai curiosi e più assidui investigatori di nuove uscite e vecchi classici di qualsiasi genere e provenienza. Una bella occasione per condividere idee e gusti. Una rubrica più che mai interattiva, in cui lo stesso autore si impegnerà regolarmente nel rispondere a tutti i vostri commenti e cogliere ogni suggerimento.