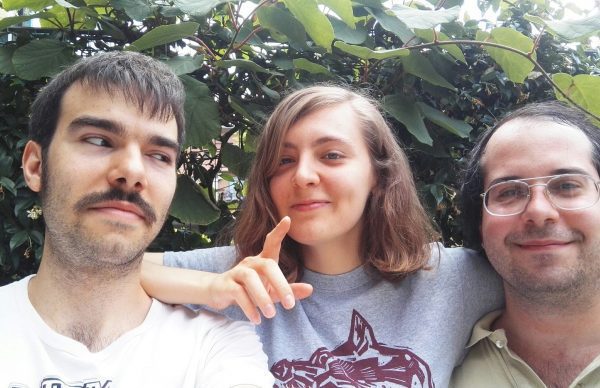 Per scrivere un disco come "Silently quietly, going away" a poco più di vent'anni devi avere talento. Questo è quello che ho pensato, quando poco meno di un anno fa ho ascoltato per la prima di innumerevoli volte il bellissimo debut album degli Any Other (uscito a settembre 2015 per Bello Records).
Nei mesi successivi la band guidata da Adele Nigro si è meritatamente affermata come una delle più belle novità nel panorama indie-alternative italiano degli ultimi anni e ha portato in giro il proprio disco sui migliori palchi di Italia e d'Europa.
In attesa di (ri)ascoltarli, questa volta nella meravigliosa cornice di Rock The Baita, abbiamo fatto due chiacchiere con Adele per farci raccontare la loro storia.
---
Come siamo arrivati dalle Lovecats, che era un duo folk acustico, agli Any Other e a un disco come Silently Quetly Going Away?
In realtà è stato tutto molto più naturale di quanto ci si possa aspettare. Ho sempre ascoltato indie rock americano anni novanta e registrare un disco affine a quelle sonorità era nei miei piani già quando suonavo folk.
Ascoltando il vostro disco le sonorità indie-rock/lo-fi anni '90 americane di cui parli ( Pavement, Built to Spill, Neutral Milk Hotel, Modest Mouse su tutti) emergono chiaramente. Ci sono altre band o gli artisti, oltre a questi, che hanno avuto un impatto significativo sulla nascita di SQGA?
Ho sempre ascoltato parecchio folk, da Bob Dylan alle cose più rock di Neil Young, per dire. Per tornare agli anni novanta, le Sleater-Kinney sono uno dei miei gruppi preferiti, quindi credo che anche loro mi abbiano influenzata.
https://soundcloud.com/anyotherband/sets/silently-quietly-going-away
Ero a vedervi quando avete aperto ai Built to Spill al Magnolia. Vi avevo già sentito un paio di volte e ho provato a immedesimarmi in voi e a come potevate sentirvi a salire sul palco prima di una band fondamentale per la vostra vita musicale. Ho pensato: "se un giorno li incontro glielo chiedo". Bene, eccoci: com è stato?
È stato incredibile! Eravamo agitatissimi ma poi è andato tutto molto bene. Doug Martsch è stato lì davanti a noi a sentire tutto il nostro concerto, e poi è venuto a farci i complimenti. Loro erano veramente gentili, quindi alla fine ci siamo sentiti molto a nostro agio. Poi va beh, loro hanno fatto tutte le mie canzoni preferite, quindi meglio di così in generale non poteva andare.
Spesso succede che una band che cambia batterista abbia delle modifiche nel sound o nella resa live. Per voi è stato così?
Quando Niccolò ha cominciato a suonare con noi non era perché volessimo un cambio di sonorità, anche se per alcuni versi ha portato nuova aria a quello che stiamo facendo. Lui è molto molto bravo, e anche se il suo stile parte da premesse "classiche" è anche davvero personale, e questo ovviamente live si sente. Non c'è bisogno di dirlo, ma ovviamente siamo contentissimi di come vanno le cose con lui.
https://soundcloud.com/anyotherband/sets/sonnet-4-ep
Siete indubbiamente una delle migliori novità sulla scena alternativa italiana degli ultimi anni. Come vi ponete nei confronti di uno dei momenti potenzialmente più critici nella vita di una band, il famigerato secondo disco?
Se devo dire come ci sentiamo, direi più stimolati che spaventati. Sto scrivendo i pezzi nuovi e a breve cominceremo con le pre-produzioni. Vogliamo fare un lavoro un po' diverso rispetto al disco precedente e non vediamo l'ora di cominciare a lavorarci!
Qual è una data, tra le tante che avete fatto, che vi ha lasciato dentro qualcosa di particolare e perché?
Mi viene in mente la data a Graz, in un posto chiamato SUB, del nostro primo tour europeo. L'ambiente era super inclusivo, antirazzista, antisessista… Il pubblico era carichissimo e la gente cantava le canzoni, e ci siamo fatti degli amici che ogni tanto sentiamo ancora. È stato bellissimo!
Una delle critiche che più spesso vengono mosse al panorama indie-alternative italiano è che tra gli addetti ai lavori c'è molta invidia. Avete riscontrato difficoltà con questo aspetto? Avete stretto amicizie con altre band o artisti?
Le invidie e gli accanimenti forse ci sono, ma fondamentalmente non ce ne frega niente, non sono aspetti rilevanti nella nostra idea generale di suonare. Preferiamo creare legami piuttosto che stare attenti a chi si detesta o non va d'accordo. Ci sono artisti e artiste italiani/e che ci piacciono parecchio, anche se abbracciano generi musicali diversi: Sequoyah Tiger, Holiday Inn, Pueblo People, Krano.