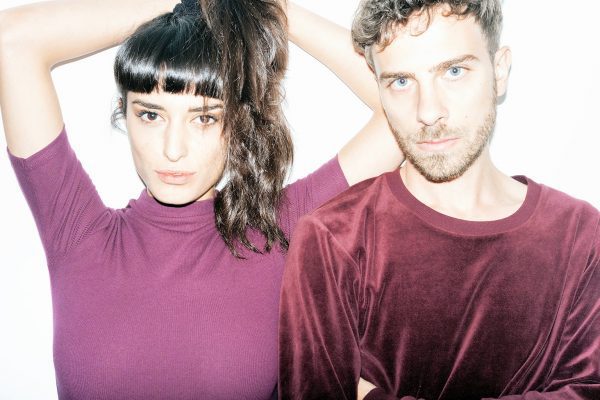 Gli Yombe conosciuti ad Eleva Festival durante il loro tour estivo, e poi incontrati di nuovo durante l'esibizione al Wopa di Parma , non deludono neanche per un secondo della loro performance. Le basi di Alfredo e la voce di Cyen vanno in crescendo per tutto il tempo dell'esibizione con  gli ultimi pezzi che fanno muovere il pubblico e qualche inedito che finirà probabilmente nel prossimo album. Ci siamo fatti scappare qualche domanda e loro qualche risposta, ecco dove li troverete nel week end e se spizzate la chiacchierata dopo il salto al live ci arrivate belli preparati.
Giovedì 2 / Terlizzi (BA) – Melkweg
Venerdì 3 / Guagnano (LE) – Rubik
Sabato 4 / Putignano (BA) – Kode_1
Domenica 5 / Taranto – secret concert
---
Spiegateci il vostro percorso musicale, come siete arrivati ad essere YOMBE ?
Ci siamo incontrati artisticamente nel 2013 nei Fitness Forever, progetto in cui per lo più eseguivamo pezzi scritti da Carlos, mente e fondatore della band. Durante quell'anno abbiamo anche collaborato con Erlend Øye che trasferitosi in Sicilia ha coltivato da subito un grande interesse per la musica italiana degli anni 60/70 ed i grandi nomi delle colonne sonore come Umiliani, Trovajoli, etc etc. I Fitness si muovono in quell'orizzonte e con Erlend, che apprezzava tanto il nostro lavoro, abbiamo suonato un po' in giro proponendo uno spettacolo in cui suonavamo per metà pezzi nostri e per l'altra i suoi brani in italiano, qualcosa di Kings of Convenience e Whitest Boy Alive.
Dopo circa un anno io e Cyen ci siamo messi insieme, ci siamo trasferiti a Milano per varie ragioni e lì abbiamo sentito il bisogno di scrivere musica nostra. Avevamo in mente da tempo di farlo e volevamo tirare fuori ascolti che avevamo un po' accantonato ma erano sempre stati nel nostro background: black music ed elettronica. Così è nato Yombe.
Come nascono le tracce, siamo curiosi ed entriamo un po' nello specifico per sapere come lavorate ad un pezzo in fase di produzione.
Non c'è una regola o un solo modus operandi. Nel primo EP ad esempio abbiamo scritto alcuni pezzi in momenti diversi e in separate sedi per non influenzarci. Dal momento che siamo anche una coppia è importante preservare le nostre individualità, anzi, in alcuni casi è stato necessario. A volte per esempio Cyen lavora su un loop che ho creato senza che io sia presente o viceversa. Altre volte passiamo ore insieme su pezzi che hanno una gestazione più lunga. In generale siamo abbastanza maniacali e questo ci porta a trasformare subito le bozze in versioni più o meno definitive perchè se da un lato è importante che la canzone funzioni anche ridotta all'osso, dall'altro sentiamo l'esigenza di definirne subito il suono e dargli una connotazione forte.
Il futuro a breve e lungo termine, cosa state progettando per questo 2017 ?
Tra una data e l'altra stiamo registrando il nostro primo album. Subito dopo l'uscita dell'EP avevamo scritto roba nuova che di tanto in tanto testavamo dal vivo. È una prova del nove importante e ci restituisce un feedback essenziale per capire se e come migliorare i pezzi prima di farli uscire. Stiamo lavorando anche alla parte visiva del live che per il momento non siamo riusciti ad implementare perché subito dopo l'uscita del primo EP ci siamo ritrovati a suonare praticamente ovunque ogni weekend, quindi non c'è stato molto tempo per mettere su un light show o qualcosa di simile. Stavolta ci prenderemo del tempo per farlo perché sentiamo che sarebbe il completamento della parte sonora e farebbe vivere un'esperienza più avvolgente al pubblico.
I Tre dischi di Cyen e i tre di Alfredo che ascoltate di più in questo periodo.
CYEN
"A seat at the table" – Solange, "Blonde" – Frank Ocean, "L'ultima Festa" – Cosmo
ALFREDO
"Pool" – Porches, "E2-E4" – Manuel Gottsching, "Someday Somewhere" – Mura Masa
Tra Dalì, Basquiat e Keith Haring chi scegli e perchè.
CYEN: Haring direi,  esplosione di colori e di movimento. Molti dei suoi lavori mi trasmettono gioia ed un senso di uniformitá e differenza. I suoi omini sono tutti uguali e diversi allo stesso tempo. Ammiro la sua gioia di vivere e la freschezza della sua arte è davvero un grande insegnamento se si pensa a quanto sia stata complicata la sua vita. 
ALFREDO: Basquiat, perchè è stato un primitivista urbano. Ha trattato la contemporaneità con un segno grezzo e impetuoso e lo sento molto vicino per questo.
Che rapporto avete con le sneakers ? Ne avete un paio a cui siete legati dai ricordi ?
CYEN: Le odio e le amo. Vorrei metterle ma mi viene la tallonite. L' unico ricordo che ho è appunto la tallonite provocatami da un paio di Tiger.
ALFREDO: Ricordo esattamente quando uscirono le Reebok Pump soprattutto perchè i miei non me le comprarono e non ho mai saputo quale sensazione provassero i miei amici nel gonfiarsi le scarpe premendo un pulsante a forma di palla da basket. Ma ci sono bambini che se la passano peggio quindi va bene così, le comprerò ora.