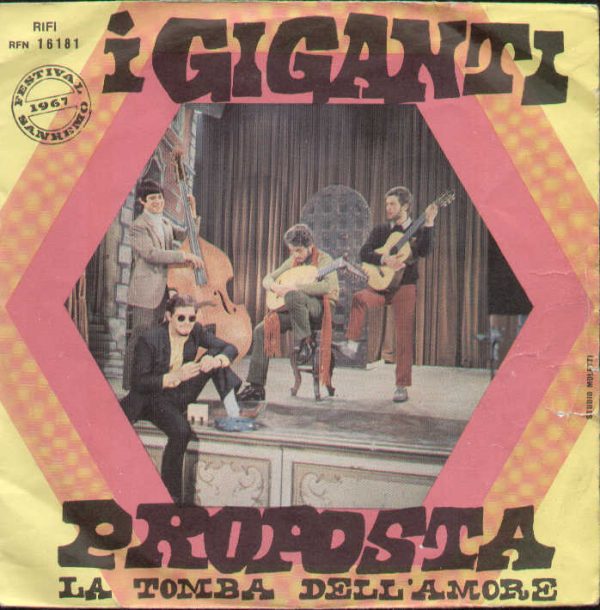 Mettete dei fiori nei vostri cannoni
era scritto in un cartello
sulla schiena di ragazzi
che senza conoscersi,
di città diverse,
socialmente differenti
in giro per le strade della loro città
cantavano
la loro proposta,
ora pare che ci sarà un'inchiesta
Recita così l'introduzione di Proposta de I Giganti, una delle massime espressioni del beat italiano e megafono dei movimenti di protesta contro la guerra del Vietnam e contro l'ordine costituito provenienti dagli USA, che sfoceranno in Italia e in Europa nelle proteste studentesche del '68. I Giganti si formarono appena ventenni nel 1964 e si contraddistinsero sin da subito dalle altre band italiane di genere beat (Dik Dik, I Corvi, The Rokes, ecc.) per due peculiarità: la prima è che tutti e quattro i membri della band erano dotati di grande talento vocale e non avevano un vero proprio frontman. Enrico Maria Papes suonava la batteria, i fratelli Giacomo e Sergio Di Martino chitarra e basso e Francesco Marsella le tastiere, ma nelle canzoni alternavano spesso le loro voci che, essendo molto diverse tra loro (dall'acuta al baritonale), creavano un originalissimo impasto vocale che venne subito adorato da pubblico e critica. Quando si esibivano dal vivo in televisione, spesso abbandonavano gli strumenti per trasformarsi in un vero e proprio quartetto vocale, un po' come facevano i Beach Boys. La seconda peculiarità era quella invece di scrivere canzoni proprie, o al massimo prese da autori italiani, evitando il più possibile cover di pezzi britannici come andava in voga al tempo. Il triennio 1965/1967  fu un periodo d'oro per i Giganti che inanellarono una serie di grandissimi successi quali Una Ragazza In Due (cover di Down Come The Rain di Tim Murray), Tema, La Bomba Atomica e appunto Proposta. Il brano venne presentato al festival di Sanremo del 1967, l'anno del suicidio di Luigi Tenco: si classificò al  terzo posto dietro a due anomime canzoni di Claudio Villa ed Iva Zanicchi, mentre il brano dei Giganti, oltre ad ottenere un buon successo commerciale, divenne un inno che accomunava il disagio dei giovani italiani di diverse classi sociali e li univa in un'unica e pacifica battaglia. Neanche il giudizio poco lusinghiero proprio di Tenco che, incalzato da Giorgio Gaber ad inizio Festival, disse di loro "hanno le pistole ma sparano solo cioccolatini" riuscì a scalfire la forza della loro canzone. Proposta uscì su 45 giri nel gennaio del 1967 con La Tomba dell'Amore come lato B; musica e testo furono scritte dai Giganti, ma firmate rispettivamente da Giordano Bruno Martelli e da Albula, poiché nessuno membro del gruppo era iscritto alla SIAE. Il brano è strutturato nel seguento modo: nell'introduzione a cappella le quattro voci giocano in contrappunto raccontandoci l'antefatto poi, su un riff di pianoforte, la voce baritonale di E.M.Papes avvia l'inchiesta. A questo punto, uno dopo l'altro, si succedono gli interventi degli altri membri della band, intervallati dal ritornello. Si susseguono un giovane operaio disilluso, un pittore di scarso successo che si arrabatta vendendo giornali e un ragazzo di famiglia ricca oppresso dal suo futuro obbligato. Ragazzi diversissimi tra loro, ma uniti da un malessere verso la società che si sfoga in un sentimento di protesta contro le guerre e l'ordine costituito. Come si evince dal ritornello è evidente l'influenza dei testi pacifisti dei grandi artisti americani, ma vi è un qualcosa in più: attraverso i discorsi dei ragazzi interrogati si cominciano a intravedere i difetti della società italiana che, dopo la "sbornia" del boom economico, cominciava ad avviarsi verso l'autunno caldo del 1969, vera anticamera degli anni di piombo. Proposta risulta così essere una canzone universale, ma con le radici ben piantate nei problemi del nostro Paese, dal testo impegnato che però non rinuncia a quella leggerezza da cui le canzoni pop non possono prescindere.
https://www.youtube.com/watch?v=jsysMvdaKaM