Converse, Vans, Nike, Adidas, Nokia, Puma, Undefeated, Garage Magazine, Ministry of Sound …ci sembra superfluo continuare e lasciarti tutto il tempo di approfondire qui. Will Robson-Scott è megafamoso, è in StemAgency e tutto quello che tratta è di nostro interesse: Chicago, King Krule, i cani, il calcio e i graffiti …ad esempio.
Il docufilm Chiraq è stato il salto di successo definitivo, premiato a Cannes e da qui tante foto dalle bande che fanno del South West di Chigago una zona di guerra, recentemente siamo tornati sulla questione per l'ultimo film del maestro Spike Lee.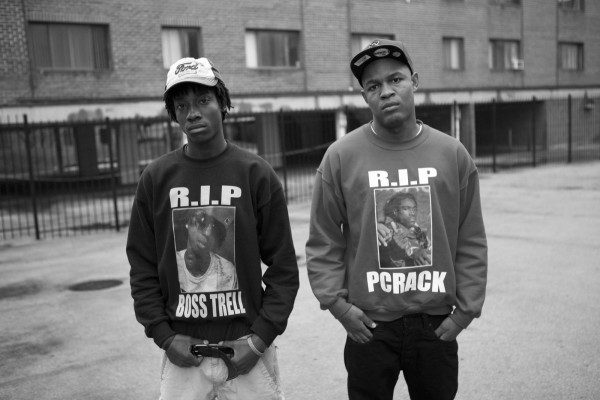 L'ultimo Robson Scott è stato molto più romantico e addirittura si è divertito con il vhs per King Krule e parenti. "A New Place 2 Drown" sono le avventure artistiche e di vita quotidiana di due ragazzi del sud di Londra, Archy Marshall e il fratello Jack Marshall. Scott si è occupato del video ma c'è anche un libro pieno di artwork e foto, e una colonna sonora originale.
Si era parlato di cani poco sopra ed ecco il libro definitivo, sempre opera sua, "In Dog We Trust" è fantastico nella sua semplicità ed eleganza. Il tema padrone+cane è un concetto vecchio come la fotografia, qui rigenerato dal click del londinese, spizzati un po' di musi qui.
Con The Rig Out, che riesce benissimo a raccontare le connection tra musica, arte, vita e stile, ha realizzato "Dresser" alla scoperta della Cardiff Soul Crew, hooligan della squadra iscritta ovviamente al campionato gallese. Deacon parla della sua vita, quella di padre, di diffidato e del ruolo in Soul Crew insieme a chi ne ha fatto un libro come Tony Rivers… poesia allo stato puro per chi vive nei trip in stile casuals boys.
Noi non possiamo raccontarti tutto eh, questi sono solo gli ultimi video, ma ti puoi appassionare ancora di più se giri pagina sul suo canale vimeo. Di foto ne ha fatte tantissime, tralasciamo il capitolo sui brand citati all'inizio, che tra l'altro sono solo una parte minima di quelli che lo hanno contattato fino ad ora, puoi invece perdere più tempo su uno dei suoi primi lavori: "Crack and Shine" e "Crack and Shine International". Successo di qualche anno fa con il tema dei graffiti di mezzo, raccontato dai protagonisti, una vera e propria serie, ogni puntata una città, poi come al solito le foto.