Kevin Couliau l'abbiamo conosciuto per un documentario realizzato insieme a Bobbito Garcia, nel 2013 insieme hanno vinto tutto con "Doin'it in the park" sulla scena streetball di NYC, una piccola parentesi per chi vuole sapere di più su Bobbito la può trovare qui. La passione di Garcia per basket e sneakers è cosa nota, mentre per il fotografo francese quella per il canestro comincia nel 2004 nei playgrounds di Nantes e con gli amici come primi soggetti, poi arriva l'esperienza americana e  le collaborazioni con Nike e Redbull, infine Asphalt Chronicle. Una rivista che raccoglie gli scatti di Kevin realizzati nei playground di tutto il mondo, qui cattura l'essenza del basket fotografando spazi di gioco di ogni tipo, a volte facendo risaltare il paesaggio, altre volte i giocatori, ma in ogni foto quello che desidera Kevin è rivedere il playground come spazio e momento di aggregazione sociale. Lo sport in generale d'altronde prima ancora che competizione è soprattutto questo nei campetti di quartiere e il pick-up basketball è forse quello che da sempre esprime meglio il concetto. Per ora due numeri dedicati a Manila e Dakar,  entrambe sold out, in attesa si vocifera di un numero su Dubai.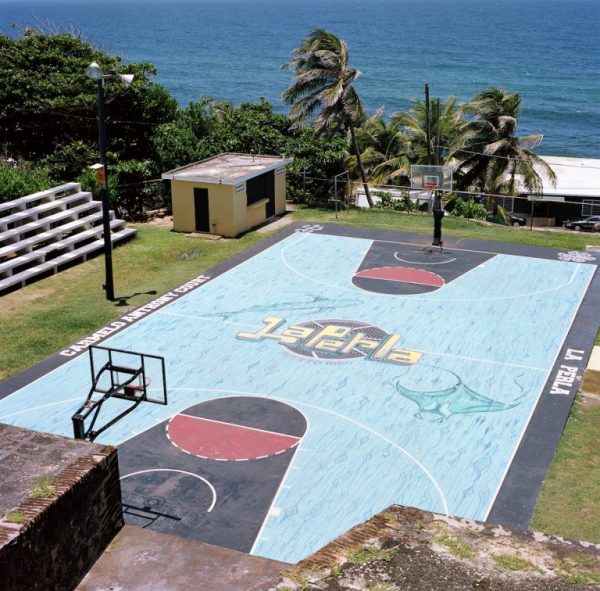 Ritornando a "Doin'it in the park" con Bobbito Garcia va detto che è stato un lavoro fantastico, i due l'hanno sviluppato  in fase di registrazione passando in bicicletta per oltre 180 campi di NYC con al seguito una palla da basket e una telecamera, raccogliendo immagini e parole (anche di qualche giocatore NBA) su questo luogo ricreativo per eccellenza dove il pick-up basketball è vissuto come una religione.
Dovete sapere che Kevin proprio in questi giorni è in Italia con "Park Is My Church" raccolta delle foto dei playground più suggestivi visitati dal 2004 ad oggi, Double Clutch in occasione dell'inaugurazione dello store ci ha fatto un regalo. Ci sono poi tanti lavori che non menzioniamo e che potete spizzarvi su kevincouliau.com, meritano le clip per il World Basketball Festival di Nike, quella per il video di "Heart & Soul of New York City", i lavori per Nike e Citroen …e altro ancora. Se poi siete forti con il francese farà per voi l'intervista realizzata a Couliau da Fisheye che trovate dopo il salto.