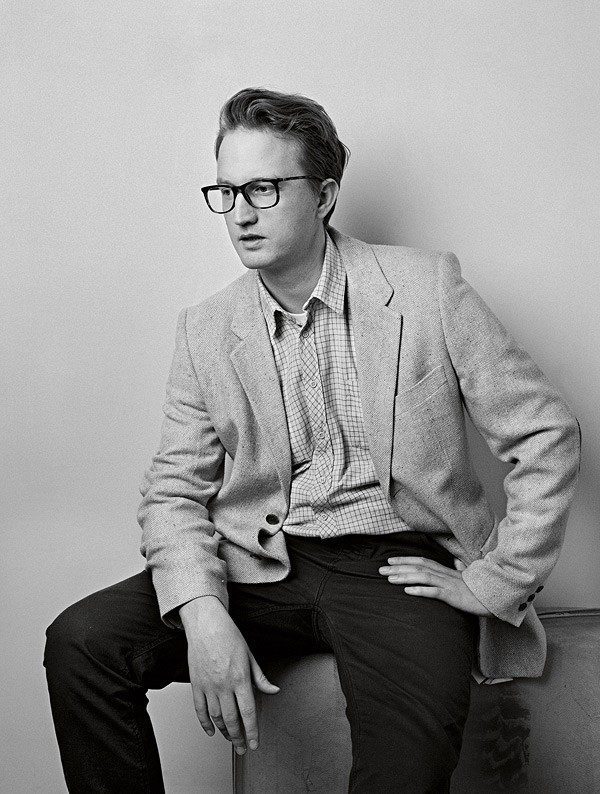 Una copertina come quella di "It's Album Time" di Todd Terje ha il pregio di rimanere impressa, indelebile nella mente delle persone, un vantaggio per qualsiasi album. L'autore è un trentacinquenne di Oslo, Bendik Kaltenborn, a cui piace usare poche linee, colori assurdi e lettere basculanti per creare i suoi artwork. Fumetti prima di tutto, poi dal 2008 arrivano i primi lavori da freelance: manifesti per film, copertine di libri, riviste e altro ancora, Terje lo conosce ancora prima di questa fase, dai tempi del collettivo di fumettisti che risponde al nome di Dongery. S'innamora del suo stile fino a desiderare un vero e proprio ritratto, il desiderio si concretizza e così nasce la copertina di "It's Album Time", dove un T.T. viene ritratto in una versione lounge su piano con cocktail.
C'è un cliente come "The New Yorker" che della mano di Bendik si avvale spesso, poi ci sono il Washinghton Post, The New York Times, D2, The Technology Review …lo stile ovviamente è quello, inconfondibile e sempre ironico. La fumettistica come dicevamo è stata la palestra di Bendik, alcune di queste strisce, brevi per lo più, sono raccolte nel suo libro Liker Stilen a cui recentemente ha aggiunto "Adult Contemporary", una rassegna di idioti del mondo moderno ma molto vicino alla realtà e una raccolta di acquerelli. Poi c'è BUM che da una mostra è diventata una striscia per Dagbladet il più famoso giornale Norvegese, criticato per essere stato anche troppo stupido e crudele con il suo personaggio e fonte di polemiche tra i lettori (vedi foto sotto), proprio per questo si è tradotto in una sorta di esperimento sociologico.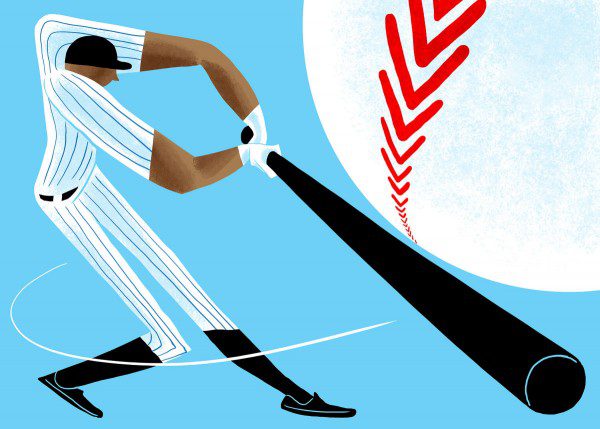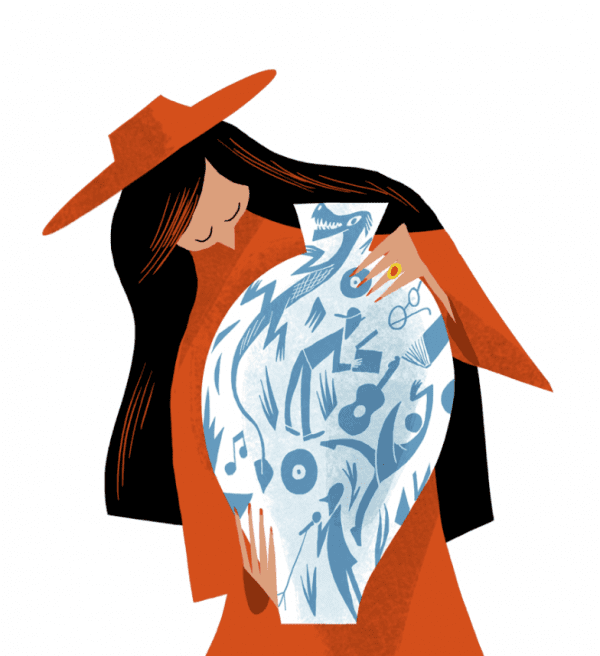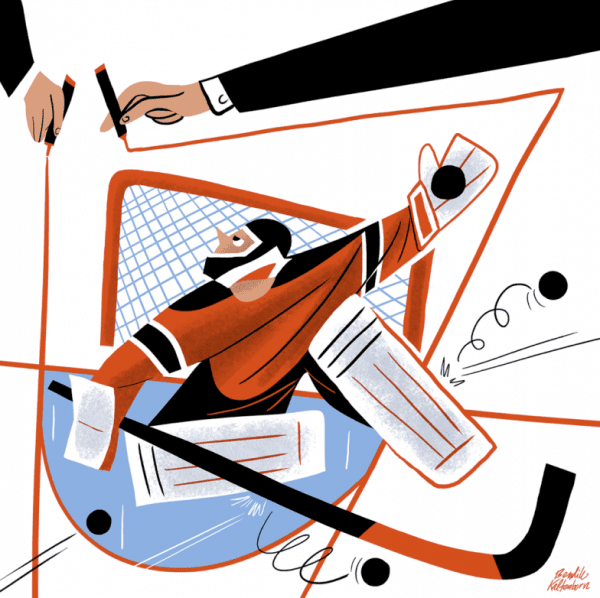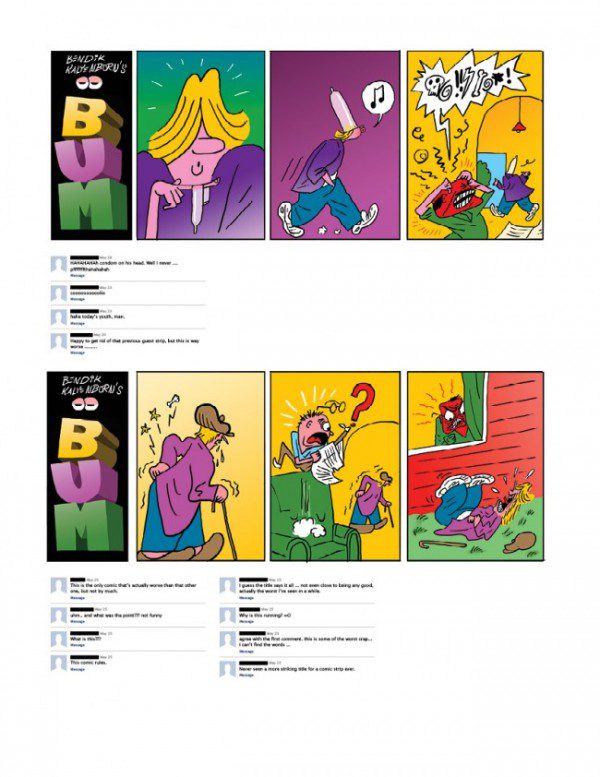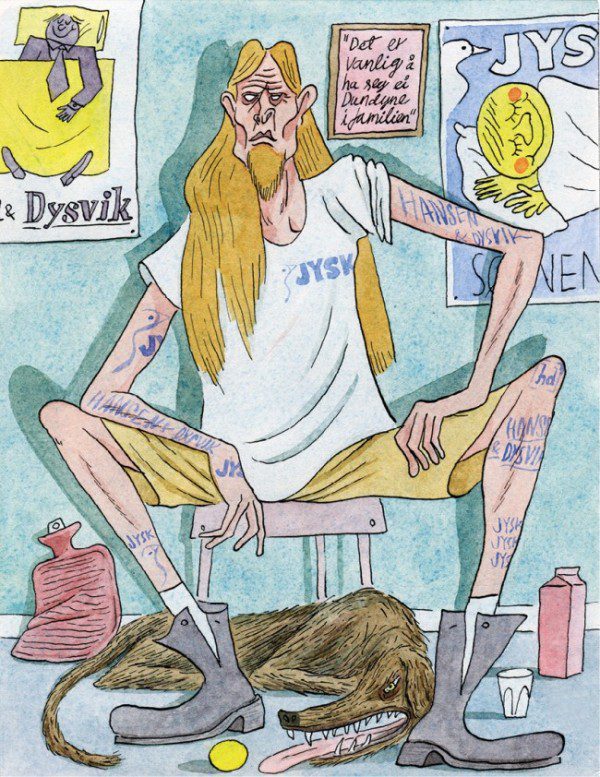 La cosa che conta è il tratto e l'humor, quello c'è ed è tutto quello che serve per fare una buona striscia, mentre il tratto è spigoloso e i protagonisti a volte goffi a volte mostruosi, oppure ridicoli. Molti dei lavori di Kaltenborn si traducono in poster art, quella che realizza per Det Andre Teatret, di Oslo è un pezzo unico ogni volta che ti verrebbe voglia di strappare e portarti a casa per coprire una parete… fortunatamente, anche se in dimensioni più piccole, esiste uno store dove rimediare.