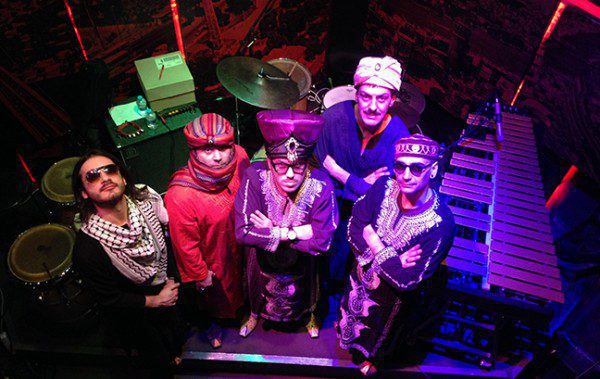 Per tutti quelli rimasti in città ci pensa ORK a dare un senso alla coda del week end. La domenica è un giorno fatto per fuggire dalle città, soprattutto in estate, questa del 26 Luglio invece ci ha dato un motivo per rimanere: il live dei Mop Mop ai Musei Civici di Reggio Emilia per la chiusura del Festival della Fotografia Europea.
Dieci anni sono passati da "The 11th Pill" il primo album del collettivo guidato dal polistrumentista Andrea Benini, in mezzo quattro album, l'ultimo "Isle of Magic" di un paio di anni fa per la Agogo Records dei Mo' Horizons. I suoni afro sono stati studiati, seguiti ed amati da Benini fin dai tempi del Dams di Bologna, a questi va aggiunta la passione per il jazz e la curiosità verso il mondo dell'elettronica. I Mop Mop nascono come gruppo jazz a Bologna nel 2000, cinque anni dopo le prime soddisfazioni: la traccia "Three Time Bossa" viene scelta da Woody Allen per il film "To Rome With Love", successivamente il loro sound muta con l'inserimento di suoni funk e psichedelici che insieme all afro generano il così detto "Vodoo Jazz".
La location è quella dei Musei Civici di Reggio Emilia, l'orario d'inizio del live è per le 20:30, ma puoi arrivare prima che ti ascolti un po' i dischi di Visti padrone di casa di ORK.

[soundcloud url="https://api.soundcloud.com/tracks/138394385″ params="auto_play=false&hide_related=false&show_comments=true&show_user=true&show_reposts=false&visual=true" width="100%" height="450″ iframe="true" /]