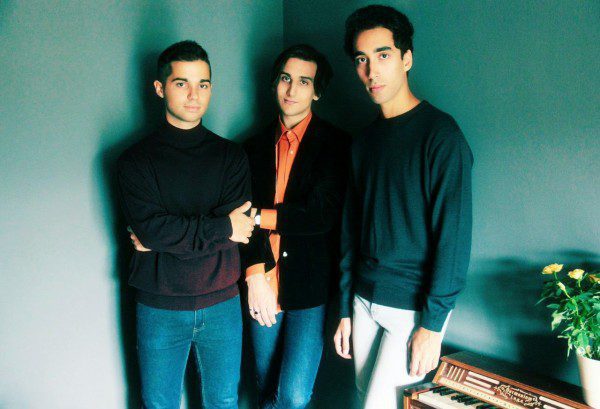 Recentemente a Parma sul palco della Fattoria di Vigheffio, abbiamo posto un paio di succose domande ai giovani e bravi Nova Lumen che usciranno in autunno con l'album "Assurdo Universo". Ci siamo divertiti, abbiamo scherzato e siamo sicuri che presto sentiremo belle cose su di loro.
Dateci qualche indiscrezione sul nuovo disco, vogliamo sapere…siamo molto curiosi.
"Assurdo Universo" uscirà l'1 Ottobre e avrà 11 pezzi, possiamo dirvi che sono pezzi legati da un filo conduttore comune che è quello del rapporto dell'uomo con l'infinito, rispetto al quale tutto sembra perdere senso.
In che modo la scena svedese vi ha influenzato? Ascoltandovi si respira aria che sa di Tough Alliance e della leggendaria etichetta Sincerely Yours (http://www.sincerelyyours.se/) quanto di Lust for Youth, noi ne siamo lieti, visto che ci piacciono assai.
Ci fa molto piacere questo paragone anche perché è la prima volta che ce lo fanno. Soprattutto i Lust for Youth ci sono sempre piaciuti molto, il punto di contatto potrebbe essere la malinconia di fondo e l'uso alle volte simile dell'elettronica. Comunque dai paesi scandinavi escono spesso delle belle bombe. Su questo non ci sono dubbi.
Addentrandoci nel processo creativo, diteci un po come nasce il tutto.
Le idee nascono o da uno di noi o insieme in sala e quando ci troviamo per scrivere. Comunque alla fine è un lavoro collettivo in cui mettiamo assieme le varie parti. I testi, invece, sono di Tommaso (voce), ma fanno comunque riferimento a tematiche che stanno a cuore a tutti noi.
Doveste scegliere 5 dischi che vi hanno influenzato nella realizzazione dell'ultimo disco?
Oltre alle influenze di base che abbiamo da quando suoniamo, durante la scrittura del disco ascoltavamo soprattutto alcuni album che di conseguenza ci avranno condizionati. Tra questi ci sono stati Singles dei Future Islands, Joyland di Trust, International dei Lust for Youth (come dicevamo), tutti usciti l'anno scorso. E poi album usciti un po' prima come Computer Love dei Glass Candy e Olympia di Austra.
State abbandonando la terra per sempre pronti a una nuova avventura in un altro mondo, 4 album che portate con voi per spiegare quello che si ascoltava da noi.
Ci porteremmo sicuramente dietro: Is this it – The Strokes, Primary Colours – The Horrors, Crystal Castles I e Crystal castles II, The Suburbs – Arcade Fire.

Assurdo Universo uscirà l'1 Ottobre 2015 e sarà acquistabile in tutti i digital store ed in copia fisica su Bandcamp e in alcuni negozi. Dal 24 Settembre invece potrete ascoltarlo per intero in anteprima streaming.
Gente Bella e Costello's hanno reso possibile questa uscita. L'artwork è di Corrado Marchigiano che si è occupato di tutto il layout del disco.