Indian Wells è Pietro Iannuzzi, la sua musica è stata apprezzata prima all'estero poi, succede spesso, la critica e il pubblico italiano si sono svegliati. Possiamo dire che con il primo album giocava già molto bene da fondo campo e con il secondo è andato sotto rete dimostrando di avere numeri da campione. Ecco l'avrete capito, siamo appassionati di tennis come lui, ma soprattutto siamo appassionati del suono di Pietro dai tempi di "Wimbledon 1980". Recentemente si è esibito in zona per Solaris al Labirinto della Masone e abbiamo trovato il tempo per  toglierci qualche curiosità.
---
Parlaci del tuo inizio, quando hai lavorato a "Night Drops" che riferimenti musicali avevi? E successivamente quando hanno paragonato il tuo suono a quello di Four Tet o The Field cosa hai pensato ?
I riferimenti all'epoca erano sicuramente vari, quando composi Wimbledon 1980 mi vennero in mente i The Books per dire, che con l'elettronica che faccio io non hanno molti punti in comune. Sicuramente sono stato influenzato da Four Tet che già seguivo da tempo, poi Burial, Mount Kimbie, quel mondo lì. E molta ambient o classica, Basinski, Arvo Part, Brian Eno. Night Drops contiene tutti questi mondi. Essere accostato a nomi del genere è sempre causa di felicità e di imbarazzo messi insieme anche se poi capisci che questi nomi vengono fuori più per comodità di chi scrive articoli e di chi li legge, nulla in contrario per carità, però insomma, lasciano il tempo che trovano.
Perchè proprio Indian Wells, c'è un motivo particolare ?
Indian Wells è il nome di un torneo ATP di Tennis che si svolge ogni anno a…Indian Wells, cittadina americana. Non c'è un motivo vero e proprio dietro al nome, quando seguivo il tennis da ragazzo questo nome mi incuriosiva, non so dirti bene il perchè. Sicuramente l'ho scelto per la connessione che il mio progetto ha con il tennis, che è stato l'elemento fondante di Night Drops.
Come sei arrivato a mettere insieme "Pause Remix EP"…tutti amici ? La collabo con Elektro Guzzi com'è nata? Devi sapere che "Lipsia" remixata dal trio austriaco è la nostra traccia preferita.
L'unico che conoscevo dei remixer di persona era Jolly Mare. Con tutti gli altri c'è stato un fitto scambio di mail e stima reciproca sicuramente. Tra l'altro sugli Elektro Guzzi non riponevo molte speranze, e invece si sono mostrati da subito disponibili e presi bene. E hanno davvero fatto un super remix. Sono molto contento della qualità dei remixer.
[soundcloud url="https://api.soundcloud.com/tracks/217167270″ params="color=ff5500&auto_play=false&hide_related=false&show_comments=true&show_user=true&show_reposts=false" width="100%" height="166″ iframe="true" /]
Sei uno dei pochi produttori italiani ad avere suonato a New York e Londra. Che sensazioni hai raccolto da queste esperienze?
Due date all'estero forse sono poche per dare una descrizione precisa però mi sono sembrate più che positive. Ho notato molta curiosità e un atteggiamento rilassato nei confronti di chi suona. Qui siamo più tesi a "giudicare" chi si trova sul palco con anche un po' di pregiudizi. A Londra in modo particolare ho trovato un ambiente preso bene, che tra l'altro già conosceva le cose che facevo, non me l'aspettavo.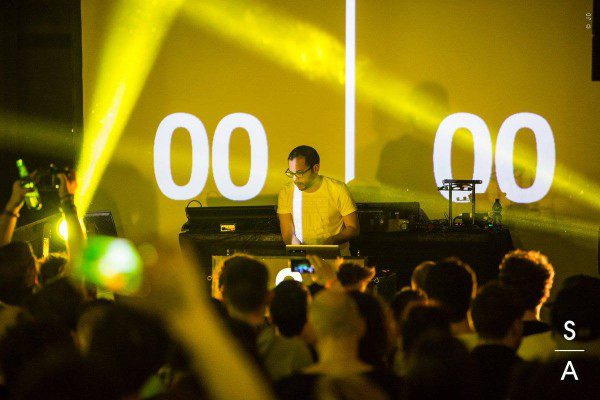 Hai cambiato i tuoi ascolti dagli inizi ad oggi ? Sappiamo che l'ambient è uno dei tuoi generi preferiti, ma nelle ultime produzioni c'è più cassa e i bpm si sono alzati …cosa ci aspetta per il futuro, arriverai a farci ballare?
Gli ascolti più che cambiare si sono evoluti, nel senso che ho ascolti più vari mai dimenticando però i generi che più mi hanno influenzato come appunto l'ambient. Ora ascolto molta più elettronica "dancefloor -oriented" di prima, questo di sicuro. Ma anche tutto quel mondo intorno ad artisti come Onehotrix Point Never, Holly Herndon etc. Direi che già con l'ultimo disco, "Pause", la direzione sembra essere quella di accelerare un po', mai avrei pensato nella mia vita di alzare i bpm e fare un uso abbondante della cassa. Però è una direzione che mi incuriosisce parecchio per cui, sì, già nei live e nelle nuove tracce su cui sto lavorando le ritmiche sono più presenti, c'è un lavoro in quel senso. Certo, ogni tanto un pezzo ambient mi viene naturale, ma è giusto così