Se c'è una band che ha impressionato per maturità nonostante la giovane età dei componenti è sicuramente quella degli Afterwards. Sensazioni confermate pienamente una volta ascoltati e visti dal vivo, perchè anche il look come spiegano dopo il salto non va assolutamente trascurato. Le foto di Elly Contini sono state scattate al Rock The Baita 2015.
---
Siete così giovani ma già così "maturi" (i ragazzi hanno circa 19 anni e hanno un tiro micidiale), come siete riusciti in così poco tempo a fare vostra tutta la scena new wave americana, mettendoci anche qualcosa di british (che non guasta mai, ndr), avevate dei dischi in casa e fortunatamente erano quelli dei Sonic Youth?
Si, siamo giovani e musicalmente più maturi di alcuni nostri coetanei, ne siamo consapevoli. Tutto questo è dovuto a una ricerca di gruppo e anche  personale che ognuno ha fatto. Internet, prima di tutto, in questa cosa ci ha aiutati molto perchè ci ha fatto scoprire moltissimi gruppi che oggi influenzano moltissimo la nostra musica, ma anche l'ambiente dove siamo cresciuti ha fatto la sua parte, conoscendo determinate persone che ci hanno aperto diverse strade. Dalla formazione della band eravamo partiti con uno stile anni '90 come hai detto tu, poi però ci siamo spostati piu sulla scena indipendente inglese (The 1975, Peace, Wolf Alice, Jaws ecc).
Dopo due Ep (il primo edito nel 2103 "12I12" e il secondo uscito nel 2015 "RAGE") ci dobbiamo aspettare un imminente album che possa definitivamente farvi conoscere? E' in lavorazione?
In lavorazione ci sono diverse canzoni, ma non stiamo pensando ad un album, anzi. Crediamo che far uscire diversi Ep sia piu efficace dal punto di vista mediatico. Non vogliamo fermarci due anni per fare un album, preferiamo essere continuamente attivi buttando fuori singoli, ep, video e altre cose. Un altro punto a favore degli Ep per noi è che ci danno la possibilità di cambiare sound, cosa che stiamo già facendo nel prossimo, ad esempio. Poi magari chi lo sa, un giorno potrà anche arrivare l'album.
Recentemente avete suonato al Rock the Baita in quel di Chiastre – Parma, e siete stati splendidi e molto coinvolgenti, possiamo affidarci al vostro coach stylist però? Avete davvero un look fighissimo… Quanto conta per voi?
La data a Parma è stata molto bella! C'è stata una grande partecipazione da parte del pubblico, è una cosa che ci piace molto vedere e ci da la carica sul palco. Per quanto riguarda il look si, per noi conta. Diciamo che anche l'occhio vuole la sua parte. Prima viene la musica ovviamente, però vedere band musicalmente apprezzabili stare male sul palco senza un loro look lascia un po' a bocca asciutta secondo noi. Abbiamo anche ricevuto delle critiche per questo, ci hanno detto che siamo troppo "impostati",  che abbiamo il look da boyband e diamo troppo conto all'estetica, ma come ti abbiamo già detto, pensiamo prima alla musica, per il resto la gente può parlare.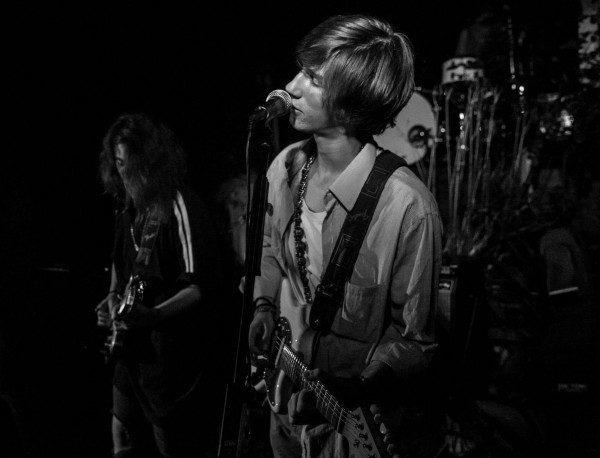 Un'agente vi ferma e vi chiede, scegliete un band da supportare, siamo curiosi di sapere quale…? Se fossero i DIIV?
Se fossero i DIIV diremmo sicuramente di si, ci piacciono molto, ma se dovessimo scegliere noi una band…è difficile. Diremmo i "The 1975" principalmente e poi i "Foals".
[soundcloud url="https://api.soundcloud.com/playlists/106622315″ params="color=ff5500&auto_play=false&hide_related=false&show_comments=true&show_user=true&show_reposts=false" width="100%" height="450″ iframe="true" /]
Ci incuriosisce sapere come il vostro tipo di approccio alla musica venga recepito da voi (la band è totalmente di Vicenza), ci sono locali nei vostri dintorni che fanno suonare? O il punto di riferimento per sonorità indipendenti rimane Verona? (sede di INTERZONA).
Guarda, la musica è comunque sempre qualcosa di nicchia, nel senso che la maggior parte dei giovani oggi pensa ancora ad andare a far festa nel locali "commerciali" piuttosto che seguire la musica live, ma è sempre stato cosi. Noi abbiamo avuto la fortuna di nascere una bella città (Thiene, a 20km da Vicenza) che sebbene sia piccola ci ha dato modo di inserirci nella "scena musicale undergroud". Avevamo qualche bel locale qui dalle nostre parti, possiamo citare lo Yourban e il Bounty, ma han chiuso entrambi quindi ora c'è un po' un momento morto. Nonostante ciò ci sono comunque molti eventi, soprattutto in estate anche nei comuni limitrofi che danno la possibilità ai giovani di suonare.