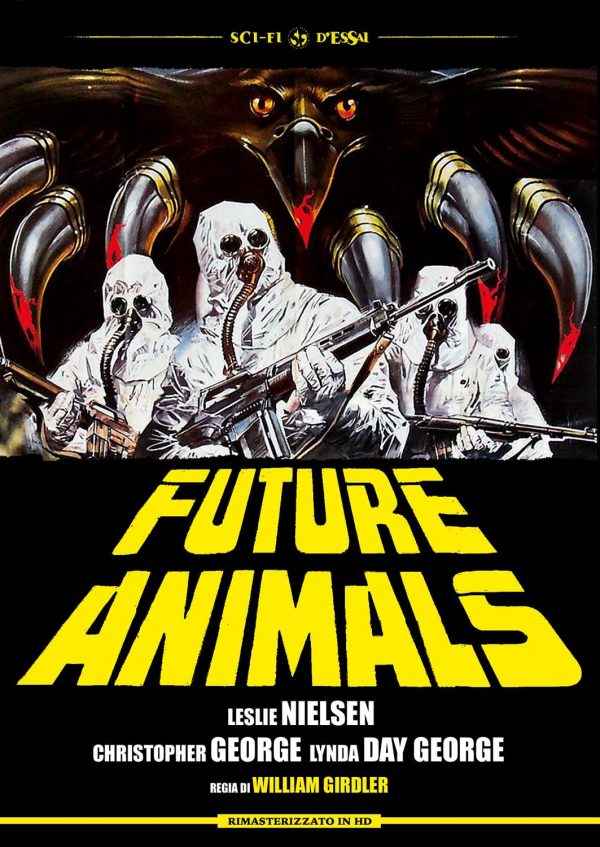 Sempre "fuori tempo" – come direbbe il grande Wilson in "Distretto 13 Le Brigate della Morte" – mi collego ai recenti fatti di cronaca su uccelli e ratti fuori controllo nel romagnolo (solo qualche settimana fa impazzavano sul web, ma è un attimo girarsi e venire travolti da un Sanremo piuttosto che da un Salvini in stato di grazia). Ad ogni modo, se l'argomento di bestie che subiscono l'ambiente fisico e psichico degli uomini vi stuzzica, non potete perdervi questa chicca appena recuperata dal sottoscritto in dvd. "Future Animals" (uscito anche con il nome di "The Day of the Animals") è un film statunitense del 1976 diretto di William Girdler e interpretato da un Leslie Nielsen aitante e iracondo che a un certo punto della storia perde completamente la brocca!
La trama è presto detta: un improvvisato quanto improbabile gruppo di campeggiatori è guidato da Steve Bucker e dal suo aiutante indiano in viaggio verso la sierra californiana; quella che sembra una tranquilla escursione si trasformerà presto in tragedia, a causa della fauna letteralmente impazzita che terrà sotto assedio la sierra stessa e i paesini limitrofi. Le Macchie Solari, imprecisato fenomeno a metà strada tra scienza e paranormale, sarebbero la causa del delirio animalesco in questione ma rappresentano anche un leitmotiv degli anni settanta: recuperatevi infatti l'antecedente film "Macchie Solari" (1975) di Armando Crispino, misconosciuto ma geniale regista nostrano che amava sperimentare con il cinema di genere.mLa preoccupazione per l'inquinamento ambientale sembra già farsi largo agli inizi degli anni settanta, dove le fobie su celluloide ritraevano effetti disastrosi  provocati da buchi nell'ozono, macchie ed altre manifestazioni che nei quarant'anni successivi si sarebbero rivelate ahinoi molto verosimili. Tornando al film, l'inizio di "Future Animals" è piuttosto soporifero – volendo ingenuamente ripercorrere zampate di uccelli hitchcockiani – ma verso il finale la tensione cresce notevolmente: complici un Nielsen fuori di cotenna che combatte con un orso (DiCaprio scansati) , l'inoppugnabile  musica del maestro Lalo Schifrin e una mandria di lupi davvero scatenati!
Un doveroso "clap" anche alle locandine (ne sono state disegnate un'infinità, sul dvd originale griffato "sci-fi d'essai" trovate tutta la carrellata) che mi hanno ricordato un'altra bomba animalesca, stavolta tutta italiana: "RATS – Notte di Terrore" di Bruno Mattei. Vi invito a recuperare anche quest'ultima pellicola e per un po' con le bestie sarete a posto! Garantito al limone.