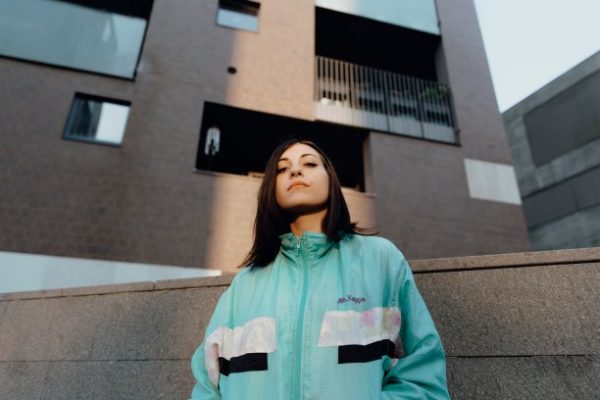 Una breve intervista e qualche spunto musicale da una piacevolissima sorpresa che si è appena affacciata al panorama musicale italiano… per ora, poi chissà! Si chiama Karhys e insieme ai Figura è l'artefice di un EP che a noi piace e dovrebbe essere così anche per voi che siete il nostro pubblico abituato a queste sonorità. Cantante italo/maltese che sa usare benissimo la voce sui suoni ben fatti dei già citati Figura (spizzatevi la nostra intervista in occasione della loro uscita), le sonorità sono quelle R&B anni '90… per il resto ascolta cos'ha da raccontarci, ma soprattutto ascolta l'EP d'esordio "Insight".
Com'è nata la collaborazione con i Figùra e come vi siete mossi nella produzione dell'EP.
La collaborazione con i Figùra è nata quando Sean Cronin (con cui è stato scritto l'EP) mi ha proposto di lavorare su dei loro beats. Le prime due tracce erano Closer to the Sun (prod. Alessandro Pollio) e Obviously (prod. Alsogood, bass line di Emanuele Triglia). Poi la collaborazione è andata avanti perché abbiamo visto quanto ci piacesse quel che stava uscendo fuori da questo team work e, Sean e io, insieme al sound fondamentale dei Figùra, abbiamo dato vita a questi 6 brani che formano l'EP.
Sei di madre maltese… conosci l'isola? Ci dai un consiglio su dove ascoltare buona musica a Malta?
Eh sì che la conosco, il mio cuore sta proprio là! Ho avuto la fortuna di crescere tra la Calabria e Malta. Per ascoltare della bella musica live, soprattutto jazz o musica in acustico, consiglierei sicuramente la capitale, Valletta. Ci sono un bel paio di posticini, come ad esempio il Bridge Bar dove, d'estate in particolar modo, l'atmosfera è magica.
Oltre a Valletta, comunque consiglierei Gżira (Casey's Bar, The Funky Monkey) e in generale le zone di Sliema e St. Julian's, dove si trova sempre qualche locale con bella musica live.
Come hai intenzione di muoverti con i live in futuro?
Stiamo lavorando a degli showcase insieme ai Figùra. Non vedo l'ora! Penso sia molto importante avere l'opportunità di esibirmi e di interpretare quei pezzi che per così tanto tempo ho cantato soltanto per me stessa. Sapere di affiancare i ragazzi ed essere supportata da loro è una cosa bellissima. Allo stesso tempo però preparerò dei live voce + dj, insieme a Francesco Alsogood, e altri proprio da sola: piano e voce, loop station…
Domanda di rito: Il tuo rapporto con le sneakers? Modello preferito?
Uso le sneakers praticamente sempre! Non penso di avere un modello preferito, però indosso sempre le mie Reebok Club C 85 (ormai non più) bianche – penso siano un classico. Recentemente però sono passata alle Skechers D'Lites Biggest Fan, fighissime secondo me, oltre che comodissime.
Un nome con cui ti piacerebbe duettare in futuro… magari nel prossimo album.
Mhmm…Domanda molto difficile questa. Soprattutto perché al momento stiamo già lavorando a dei brani con alcune delle persone con cui non vedevo l'ora di cantare assieme. Però non posso ancora dirvi i nomi. Posso invece confessarvi che uno dei miei sogni sarebbe quello di poter calcare il palco con una delle mie cantanti preferite:
Maggie Rogers.

Di seguito i dieci pezzi fondamentali per il percorso musicale e stilistico di Karhys… e infatti Maggie  c'è!
---
https://www.youtube.com/watch?v=8DswZ0q5sJs