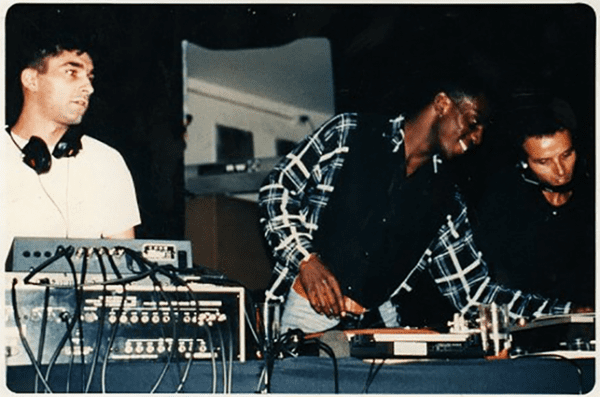 Parliamo di musica da club ideata e prodotta nella prima metà degli anni 90, da alcuni dj di locali che furono il cuore della tendenza House in Italia come il Kinki di Bologna, Aleph e Ethos di Gabicce, che IRMA CASA DI PRIMORDINE  e le sue sotto etichette hanno saputo catturare dalla scena e portare su disco, a partire dalla fine degli anni 80.
I dischi proposti in questa lista hanno tutti in comune lo stesso autore, musicista produttore, Francesco Montefiori detto Kekko (fondatore del duo Montefiori Cocktail a partire dal 1997), affiancato di volta in volta da diversi djs, tutti, come vedremo, di altissimo livello.
TD RECORDS "It's thinky"
Le avventure discografiche di Kekko cominciano nel 1988 ai tempi in cui i campionatori erano ancora piuttosto limitati nella durata del campionamento e la sfida artistica dei tempi consisteva proprio nel ottenere il massimo, frazionando quanti più piccoli samples al meglio. Questo suo primo mix, prodotto insieme a Gianni Parrini è una perla del genere "Sampladelic".
KEKKOTRONICS & LTJ "First job" 
Nel 1989 esce il primo singolo ufficiale di Kekko Montefiori in coppia con LTJ aka Luca Trevisi su Irma Records, un collage armonioso e ritmato di brevi samples da dischi di Funk e Rare Groove.
KEKKOTRONICS & LTJ "Gimme that funk"
E il groove di Kekkotronics &LTJ continua pochi mesi dopo con un secondo singolo dal medesimo stile
SOFT HOUSE COMPANY "What you need" / "A little piano"
Nell'ambiente ricco di stimoli dei clubs tra la riviera e Bologna nascono le collaborazioni di Kekko Montefiori con i migliori djs della scena e nel 1990 collabora con Claudio Rispoli aka Mozart alla produzione di un singolo deep house intitolato "What you need", appaiato da "A little piano" sulla facciata B che è tuttora considerato un brano di riferimento nell' Italo House. Questo è il disco che segna l'ingresso di Claudio nella scuderia Irma e che inaugura una lunga e proficua collaborazione con l'etichetta, proseguita attraverso progetti oggi leggendari cone Double Dee e Jestofunk.
K TRONICS ENSAMBLE featuring DOUBLE J FLASH "House of calypso"
La traccia "A little piano", tra Deep House e Paradise House, consacra Kekko Montefiori tra i produttori house italiani emergenti e in breve tempo esce la prima versione di "House of calypso", realizzata insieme a Cesare Collina aka Tito Valdez.
KTE (K TRONICS ENSAMBLE) "House of calypso II remix"
Ma è solo 2 mesi dopo, con la seconda versione remix, che il brano esplode nei dancefloors underground di tutto il mondo ed è considerato oggi un pilastro dell'House Music che conta numerosissime licenze nel mondo, remixes e re edits prodotti negli anni.
https://youtube.com/watch?v=TVPqMPhBF3Q
KEYS & TRONICS ENSAMBLE "You x me"
Sull' onda del successo internazionale di "House of calypso" Cesare & Kekko producono in breve tempo un follow-up con gli stessi ingredienti, aggiungendo questa volta raffinate suggestioni Latin.
E in questa versione, tra House e Acid jazz, Kekko inizia a dirigersi verso i territori musicali che pochi anni dopo diventeranno il terreno dei Montefiori Cocktail.
BE NOIR "Give me your love"
Nel 1991 Francesco, insieme al duo di djs del momento Flavio Vecchi e Ricky Montanari, remixa una versione di "Give me your love" dei Be Noir (un progetto di Cesare Cera aka Black Mighty Wax ) in stile Soulful Garage, il genere maggiormente proposto dai due djs durante quella stagione all' Ethos Mama Club.
KEY TRONICS ENSAMBLE "Move" 
Nel 1992 una nuova collaborazione col dj svizzero Patrick Duvoisin per un nuovo singolo deep house omaggiante Marshall Jefferson.
KEY TRONICS ENSAMBLE featuring ELISE "We need music"
E pochi mesi dopo, ecco nei negozi e sui giradischi un nuovo 12" di Kekko Montefiori con Patrick Duvoisin, Flavio vecchi e Ricky Montanari.
SOFT & LOUD MUSIC ENTERPRISE "Find a groove"
Sempre nel 1992, anno denso di fermenti musicali da club, Kekko si destreggia con ottimo risultato nella produzione di una traccia deep house da solo senza djs. Fa la comparsa in questo brano il fratello Federico detto Kikko al flauto: i due fratelli fonderanno dopo pochi anni il celebre duo Montefiori Cocktail.
https://youtube.com/watch?v=40V7zLXosrw
KEY TRONICS ENSAMBLE "You got me" / "Anamaria"
L'ultimo disco di KEY TRONICS ENSAMBLE è del 1993 e include come bonus track "Anamaria" un omaggio a Marcos Valle, destinato a diventare negli anni seguenti un cavallo di battaglia dei Montefiori Cocktail e che ne preannuncia il sound con l'organo hammond alla Walter Wanderlay suonato da Francesco sul groove elettronico, con il sax del gemello Federico a completare il tutto.
MONTEFIORI COCKTAIL "Gipsy woman" (da "Raccolta n.1")
Nel 1997 esce il primo album dei Montefiori Cocktail intitolato "Raccolta N.1" un album che getta le basi della cultura retrofuturista che ha imperato negli anni a cavallo del millenio nei Lounge Clubs, nelle sincronizzazioni televisive e nelle colonne sonore. All'interno dell' album l'omaggio di Kekko & Kikko agli anni d'oro dell'House Music e dei clubs tra Bologna e la riviera con la versione Nu Bossa di "Gipsy woman (la da dee la da da)" di Crystal Waters.
Di recente per gli amanti del genere Balearic, l'etichetta olandese Clone Records, che aveva già realizzato la versione 2007 di "Calypso of house" ha stampato su un vinile 4 unreleased demo versions del periodo Key Tronics Ensamble sotto il nome di "Keytronics Ensable EP", disponibile sul web site della label per ascolto e acquisto.