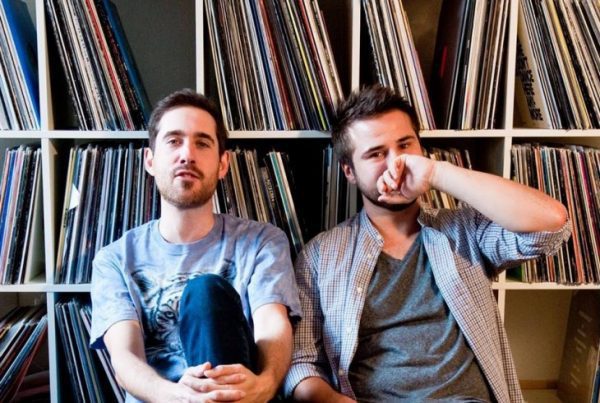 Venerdì 16 dicembre nell'«isola musicale» di Borneo presso il locale WoPa di Parma si terrà una delle serate più esplosive del 2016: ospiti d'eccezione i grandi demiurghi della frico-disco Luka Carnifull (Luca Melloni) e Santana Pasta (Davide Piva), ovvero il duo di dj udinesi Fare Soldi. Con cinque album all'attivo, numerosi remix di brani leggendari e memorabili dj set in giro per il mondo, i Fare Soldi sono ormai una delle poche sicurezze per coloro che amano la disco-house "vecchio stile", senza troppi artifici e dalla classe senza tempo . In attesa di una serata nella quale gli imperativi saranno solamente divertirsi e ballare fino alla sfinimento, ho preparato 10 domande a cui i Fare Soldi hanno risposto in modo chiaro e conciso. Leggete con attenzione, magari mentre ascoltate il loro ultimo album 21+ o il superbo remix di No Diggity dei Blackstreet , perchè ad una serata del genere non si può arrivare impreparati!
Spiegate un po' a chi ancora non vi conosce cosa vuol dire "frico disco" e quali influenze vi hanno portato a consolidare il vostro caratteristico sound.
Recentemente un attento blogger lo ha spiegato così: «per definire il loro sound utilizzano la singolare espressione frico-disco che racchiude molteplici significati. Così come il frico (piatto tipico friulano) è grasso e gustoso, il loro groove é ricchissimo di influenze di vari generi, tra passato e presente, senza mai rinunciare a quella cassa dritta che fa tremare il dancefloor. Fra le tante ispirazioni possiamo annoverare la disco anni 70/80, il funk, la techno "old school", la french touch (l'album Discovery dei Daft Punk in primis), l'house di Armand Van Helden (di cui hanno remixato il pezzo Barbra Streisand del suo progetto Duck Sauce) e i Soulwax. » 
Ed è decisamente corretta.
Durante la vostra carriera avete girato club importanti in tutto il mondo e conosciuto parecchi artisti: quali sono le serate che ricordate con più emozione?
Dopo tanti anni di gavetta, nel momento in cui abbiamo avuto l'opportunità di suonare in tanti club in giro per il mondo, poche volte ci siamo trovati in situazioni in cui non riuscivamo a creare un rapporto con il dancefloor: sotto questo punto di vista ci siamo sempre reputati molto fortunati. Anche se suonerebbe più cool dire che abbiamo vissuto serate speciali solamente in posti glam come New York, Los Angeles e Parigi, in realtà ne abbiamo vissute altrettante anche in posti come Seoul, Amburgo o Vicenza. E poi ci chiedi di ricordare troppe cose, operazione complessa visto quanto ci siamo divertiti in giro. 🙂
So che siete dei grandi collezionisti di dischi di ogni genere, belli e brutti, dalle pietre miliari alle perle sconosciute: se foste costretti a scegliere un solo disco da ascoltare per il resto della vostra vita, quale sarebbe?
Collezioniamo dischi da quando avevamo 14 anni: quindi sì, abbiamo discrete collezioni, ma proprio alla luce di ciò, ci stai chiedendo una cosa molto vicina al dramma di Meryl Streep ne "La Scelta di Sophie".
Cinema, libri, televisione: quali sono i vostri riferimenti e quanto si riflettono nel vostro modo di fare musica, a partire dai titoli delle canzoni?
Soprattutto nei primi anni erano elementi fondanti della nostra estetica e di quel mondo di selvaggia ironia che avevamo dentro. Oggi forse siamo più sottili e certe cose tentiamo di esprimerle in modi meno punk rispetto ai primi dischi.
Apprezzo molto i vostri remix sia dei grandi nomi del pop che delle fresche novità italiane come Cosmo e i Selton. Non avete mai pensato di raccoglierli in un disco stile "Most Of The Remixes" dei Soulwax?
No. In effetti non ci avevamo mai pensato fino ad 8 secondi fa. A parte il nauseante ammasso di contratti e licenze che già riusciamo a visualizzare, sarebbe però un'idea carina.
https://soundcloud.com/faresoldi/blackstreet-no-diggity-fare-1
Parlateci dei punti di forza della vostra serata "Venerdì Credici" a Udine che quest'anno ripartirà il giorno di Natale.
Nasce proprio da quell'esperienza, di cui parlavamo prima, di notte magica che può avvenire dovunque, con il giusto lavoro dietro. Dopo averne fatte tante tra Europa, Asia e America, ci siamo detti "e perché non si può fare nella nostra città?" E così l'abbiamo messa in piedi da zero, ed è uno dei party più divertenti che conosciamo. E non solo per noi, a giudicare dalla quantità di sorrisi che si vedono in pista.
"21+", "Paghetta", "Sappiamo Dove Abiti", "One Nation Under A Grande Cassa" e "Fare Soldi": a quale dei vostri 5 album siete più legati?
I dischi sono come i figli, però forse dobbiamo spezzare una lancia per "21+", il nostro ultimo album, perché é sicuramente quello a cui abbiamo lavorato più intensamente e che ha rappresentato per noi il "diventare adulti".
Quali sono stati i concerti più belli a cui avete assistito? E i peggiori?
I primi bellissimi che ci vengono in mente: Stevie Wonder, Radiohead, Lcd Soundsystem, Beastie Boys, Foo Fighters, Daft Punk, ma anche molte band sconosciute in posti sconosciuti in giro per il mondo. Concerti e dj set brutti centinaia, ma perché mai sprecare tempo a parlarne?
Da quanto non ritornate nella nostra città e cosa sperate di ritrovare? Valgono anche risposte "culinarie".
Beh, in effetti è un po' che non passiamo per Parma. Speriamo di trovare della gente che abbia voglia di ballare, staccare la spina e stare bene: a provvedere al resto pensiamo noi. Riguardo al cibo? Nonostante ci bulliamo di essere due che amano provare qualsiasi cosa in giro per il mondo, poche cose ci riempiono il cuore come suonare nella nostra bella penisola e la ricchezza di figate da ingurgitare che questa annovera. Figuriamoci in Emilia, poi.
Concludo con una domanda strappalacrime: vi siete più commossi per la recente scomparsa di David Mancuso o per quella nel 2014 di Frankie Knuckles?
Qui si parla di pesi massimi. Tuttavia spendiamo il nostro cero votivo per Dave perché é ancora più all'origine di tutto quello che reputiamo essere il meglio di tutto questo folle mondo, in cui un tizio con dei dischi ne fa ballare un sacco di altri.