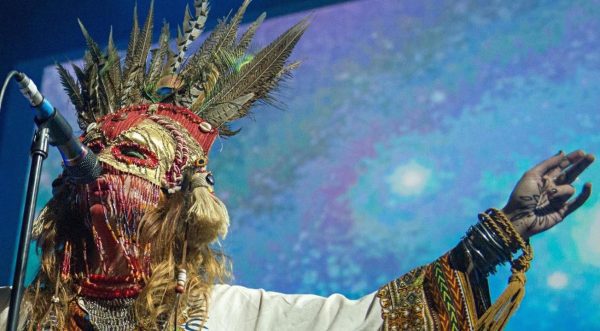 Cos'hanno in comune un'etichetta indie londinese, una setta di giovani sciamani svedesi originari di un paese maledetto e il Glastonbury?
Immaginate i Doors sotto acido in un feat. con i Jefferson Airplane prodotti da Kevin Parker dei Tame Impala. Vi presentiamo i GOAT.
La storia ha inizio a Korpilombolo (sì, esiste davvero…), un paese dal nome bizzarro sperduto nel nord della Svezia. La leggenda vuole che gli abitanti di Korpilombolo (sta diventando piacevole) in passato siano stati iniziati ai riti voodoo da una strega nomade che avrebbe radicato nella tradizione del luogo una serie di usi e costumi pagani poi custoditi e tramandati alle nuove generazioni. Questo background culturale è lo scenario in cui  è nato e cresciuto il folcloristico progetto musicale dei GOAT (… ed è necessario tenerlo bene a mente quando si ascolta la loro musica).
Il primo lavoro del collettivo misterioso, "Goatman", esce a inizio 2012 per Rocket Recording, giovane e attivissima label londinese che punta tutto sulla nostalgia revival dei '60s. Le sonorità psych-world dei GOAT, improntata su infiniti loop di percussioni, chitarre distorte, voci selvagge e riverberate, creano un'atmosfera sospesa tra l'esoterico e il tribale che proiettano l'ascoltatore in una dimensione parallela. Il prodotto piace e il pubblico ne rimane affascinato, si creano le premesse per l'uscita del primo full-lenght che non tarda ad arrivare; "World Music" fa il suo ingresso in scena a fine estate e l'hype nei confronti del progetto cresce esponenzialmente. Le 9 tracce contenute nell'album di esordio trovano la loro quintessenza nella dimensione live in cui il "colletivo" si presenta sottoforma di tribù mascherata. Il tour promozionale include i festival più in vista del momento (Glasto su tutti).
"The songwriting process is strange. Normally, when we play together we don't play songs – we make music – and every time we play is a new time. When we had the possibility to record, we have made songs for the album. It started with the song 'Goatman', and that song was recorded just for us. Then Rocket [Recordings] asked us to write some more and we continued. Our songs are never really finished and we never know how they will end up when we start recording."
Buona la prima, i GOAT si sono guadagnati la fiducia del grande pubblico ed hanno attirato una forte attenzione sul loro progetto. Nel settembre 2014 esce il secondo album, "Commune" – forse il più riuscito tra i loro lavori – che riconferma le sonorità folk-psichedeliche e l'attitudine sperimentale della band senza deludere le aspettative.
Il collettivo di sciamani svedesi fa tappa al Coachella e si ripresentano sul palco del Glasto nel 2015, stavolta da protagonisti. Il progetto è cresciuto e il pubblico si è ampliato. Dopo la conferma positiva di Commune arriva il momento (attesissimo) di dare la prova definitiva circa la validità artistica della band per fugare i dubbi dei critici più scettici. Dopo una gestazione di quasi 2 anni, ad ottobre 2016 arriva "Requiem", terzo ed ultimo album uscito sempre per Rocket Recording (UK) e Sub Pop (USA). A questo punto l'intento artistico dei GOAT è più nitido che mai e con il loro sound si evolve e si rafforza anche l'ideologia alla base del progetto: la collettività come sublimazione dell'individuo. Da qui l'idea dell'inclusione, dello spirito tribale, delle maschere che annullano l'individualità, della contaminazione sonora, dei confini indefiniti che pervade l'immaginario e l'estetica di uno dei progetti "emergenti" più interessanti a livello globale.
"Tutto è spiritualità. È la sensazione di essere parte del grande nulla e la comprensione della propria insignificanza. Ma al tempo stesso la convinzione che è necessario svolgere un piccolo eppure positivo ruolo nell'evoluzione. È scegliere la propria versione di Dio da seguire nel viaggio attraverso la vita."
Se anche voi vi siete innamorati dei GOAT e vi sentite un po' più sciamani voodoo correte ad ascoltarli, anche perché – come recita il loro blogspot – "they will be very rare this year.."