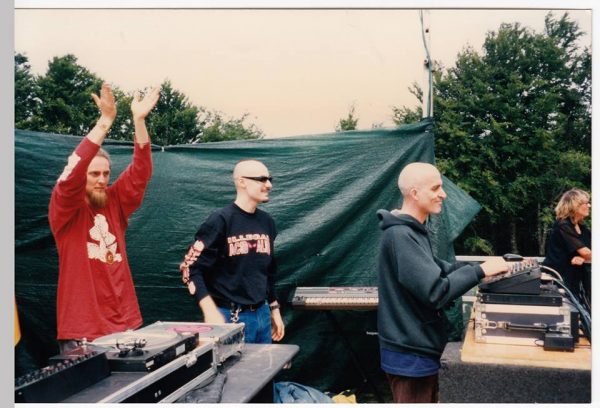 ---
KICK THE DISCOLO – EARLY TOSCANA SOUND OF INTERACTIVE TEST RECORDS (PT.I)
---
I primi '90 sono gli anni in cui l'avvento delle tecnologie digitali sta rivoluzionando l'industria discografica sconvolgendone anche la dimensione artistica: la sperimentazione di Franco Falsini su queste nuove tecnologie, in collaborazione con i djs della scena Toscana, ha reso i dischi della Interactive Test speciali da un punto di vista musicale e sonoro, apprezzati oggi come all'epoca della loro uscita, grazie al loro stile proiettato verso il futuro e ricercatamente slegato dalle mode musicali del periodo. Gli elementi usati per registrare erano 2 campionatori Roland, ciascuno con 8 uscite separate, dove risiedavano i samples in digitale che venivano triggerati da un computer Commodore Amiga, tramite il programma Octamed, che pilotava anche gli strumenti midi, il tutto miscelato su un board Hallen and Heat e registrato su un dat Sony.
Nonostante Franco Falsini fosse il solo responsabile della label, ha sempre gestito il lavoro come un'esperienza collettiva, malgrado i problemi di carattere burocraticoamministrativo che potevano nascere allorchè alcune tra le persone coinvolte non erano tutte iscritte alla Siae e non potevano figurare sui crediti della label. Le stampe della Interactive Test erano sempre limitate: in Italia lo smistamento nella rete di negozi specializzati partiva da Firenze tramite Mastelloni, un negozio del settore, in Inghilterra attraverso i Bandulu (un trio elettronico che, come gli Open Space, seguiva le nuove frontiere del live) e da Amato Distribution, mentre in Olanda tramite Ben Gratz e Boudisque. Discontinuamente l'etichetta fu distribuita anche da Discomagic.
In Toscana in quel periodo si viveva una vita notturna inaspettata, i suoni che l'accompagnavano erano già oltre la disco music e le "tribu' che ballano" all'inizio frequentavano l'Imperiale, famoso per le sue serate di 12 ore non stop, e in seguito anche l' Insomnia,  un locale aperto come Disco Acropoli d'Italia con le sue 4-5 piste da ballo diversificate. Francesco Farfa, Miki Zamboni, Roby J, Gabry Fasano, Stefano Noferini furono sicuramente fra i personaggi responsabili del gusto sonoro che stava modificando il modo di concepire sia il clubbling che le discoteche e i primi dischi della Interactive Test, vennero realizzati proprio insieme a loro, oltre alle produzione di Open Space
un trio elettronico formato da Franco Falsini insieme al fratello Riccardo e Giacomo Brunetti, per suonare musica live. Adesso le perle techno e house sperimentali all'origine del "Toscana Sound" uscite sulla Interactive Test sono di nuovo in circolazione attraverso Discogs e la pagina dell'etichetta su Bandcamp , che si dedica alla vendita di vinili in stock e di files digitali in Europa, Stati Uniti e Australia. Il catalogo digitale è in vendita anche su ITunes  e Spotify.
Il suono dell'house "pre-progressiva" Tosco-Inglese della Interactive test: Franco F. "Stimulation Lab"
Agent FylFoyt, una serie Techno-Spy prodotta da Franco Falsini, sotto uno dei suoi pseudonimi.
Oltre ai due volumi solisti, Franco Falsini nelle vesti di FylFoyt collabora con Mario Più anche nel suo primo singolo: Mario Più "The big man was a dreamer"
Un progetto solista di Giacomo Brunetti degli Open Space: Shout "Scanning 4 fun and profit"
Una produzione solista di Riccardo Falsini degli Open Space: Rick8 "I believe" vol.1 e vol.2
L'incontro tra Franco Falsini e Dj Miki avvenuto al Tartana di Follonica (Gr), che diede vita a M.I.K.I., la serie concept dove veniva delineata la forma in cui il dj può dimostrare la propria abilità attraverso progetti a base di loops e campionamenti: Major Iponotic Key Institute "The sound of Tirreno"
Techno inafferrabile per after hours, composta da Francesco Farfa e arrangiata da Joy Kitikonti e Franco Falsini: Francesco Farfa "Farfability"
Roby J, il dj che si perde, con la sua ricerca, nella matrice dello spazio sonoro, è l'autore della colonna sonora dei party mezzanotte-mezzogiorno dell'Imperiale di Ponsacco (Pi), produzione di Franco Falsini: Roby J "Public Domain Age"
Potete trovare altri titoli fondamentali e imperdibili di Interactive Test in streaming e acquistabili sul bandcamp della label, come ad esempio gli album digitali " Loop based collective experience" Vol.1 e 2, che contengono la storia dell'etichetta e sono consigliatissimi.
Qui Discogs vi può soddisfare ulteriormente:
Learn To Fly "Learn To Fly": Learn to Fly, il disco di Francesco Farfa prodotto da Riccardo Falsini degli Open Space: la farfalla che sta ancora imparando a volare. Franco aveva suggerito a Farfa di usare la parola born, che avrebbe significato nato per, ma Francesco ha preferito learn.
How 2 use the world "How 2 use the sky" : una traccia sperimentale e affascinante di Marco Calderoni, prodotta da Giacomo Brunetti degli Open Space.
Neurostate "Dance to the house" : un disco importante nella storia dell'etichetta, un singolo underground di Stefano Noferini che Introdusse la Interactive Test a Italia Network.
Man with magic "Different places": super underground dalle menti di Mario Più , Alessandro Tognetti e Franco Falsini.
Un grande aiuto per il nuovo startup è arrivato da Alessandro Parlatore e Marcello Giordani, conosciuti come Marvin and Guy  e Manfredi Romano aka Dj Tennis che, con la loro serie Life Of Marvin nel 2017 hanno riportato in vita le prime uscite Interactive Test ormai introvabili con un editing, remastering e packaging di qualità sorprendente.
Grazie a Franco Falsini, Alessandro Parlatore, Ricky Capelli.