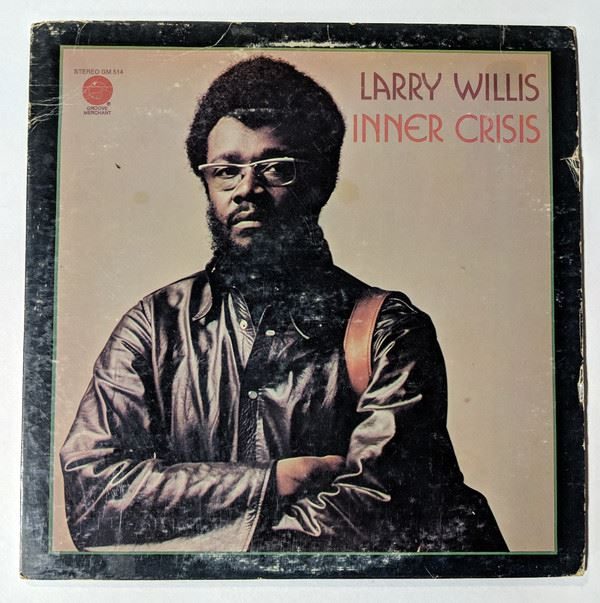 Larry Willis, un buon pianista Jazz. Una brevissima storia della sua carriera: coetaneo di Herbie Hancock, ha la fortuna di nascere a New York, e quindi frequentare la mitica Manhattan School Of Music, per approdare giovanissimo alla Blue Note, partecipando ad un album di Jackie McLean.
La sua maturità artistica si forma in un periodo caratterizzato da grossi fermenti sonori, influenzati dal funk, dal rock e dallo spiritual jazz, facendo confluire Larry tra le fila del gruppo psichedelico/pop/rock Blood, Sweet and Tears per sette anni, come a suonare negli album dei migliori funky men dei 70s (Hugh Masekela e Groove Holmes) o degli sperimentatori dell'avanguardia (Joe Henderson, Gary Bartz).
Questo percorso eclettico gioverà alle sue opere personali, dallo stellare A New Kind Of Soul del 1970,  o a questo fantastico album Inner Crisis del 1973. Album rilasciato dalla Groove Merchant (etichetta culto per gli affamati di sample efficaci), e prodotto da quel fenomeno di Sonny Lester, a cui noi tutti producer odierni, ed in particolare Jamie XX, dobbiamo tanto.
L'ellepi è uno dei migliori esempi di Jazz funk elettrico del periodo, con una formazione da sogno, a cominciare dalla ritmica: Eddie Gomez al basso ed Al Foster alla batteria. In sei tracce sono dichiarate le coordinate artistiche del nostro Larry, spaziando dal funk più tirato, a quello più attraente per i producer della scena hip hop (Gravediggaz, DJ Format), alle ballad modern jazz, fino al pezzone per i tifosi di Kamasi Washington.

Il tutto si apre con il brano Out on the Coast, sostenuto da un groove di batteria che non fa stare fermi, un tema super funk, ed uno sviluppo di fender Rhodes a cura di Mr Willis che farebbe ululare anche Theo Parrish.
Il secondo brano è più lento, 153rd Street Theme, ma con un 'funky feeling' tutto strascicato, che si allarga, e si estende per l'intera durata, affacciandosi alla psichedelia, al soul, fino ad arrivare a strizzare l'occhio al blues nell'assolo del chitarrista Roland Prince.
Arriva a questo punto la traccia che da il titolo all'album, Inner Crisis, e per più di sei minuti sarete cullati nel miglior viaggio progressive astrale che potreste desiderare, grazie alla fantasia ed abilità di questi musicisti fantastici.
Al Foster in continua sollecitazione, porta ogni assolo a culminare in un pathos coinvolgente, incitando sia Larry Willis, che Harold Vick al soprano, a dare il meglio di loro stessi.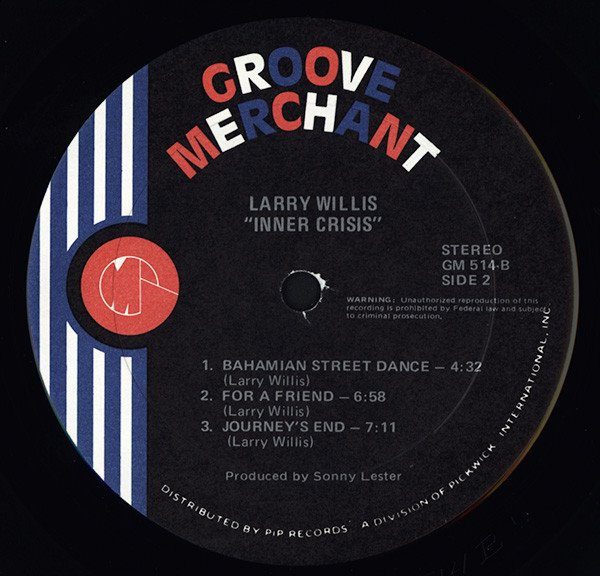 La facciata B, per la regola dell'eclettismo, si apre con un tema calipso swing: Bahamian Street Dance, sicuramente dettato dalla moda tropical jazz del momento, dove il trombonista David Bargeron (poi con Jaco Pastorius) dona lucentezza festaiola al tutto.
Segue la ballad per pianoforte For A Friend, che dolcemente riporta la tensione al livello minimo, dondolando l'ascoltatore, per poi traghettarlo al brano di chiusura dal titolo ineccepibile Journey's End. Qui la vena spiritual jazz del Nostro trova sfogo, concedendoci una vera a propria trasvolata sonora attualissima, grazie ad uno stile e suono, che riporta alla mente contemporanei beniamini come Yousef Kamaal, o il già citato Kamasi.
Fatevi un regalo. Comprate questo album.