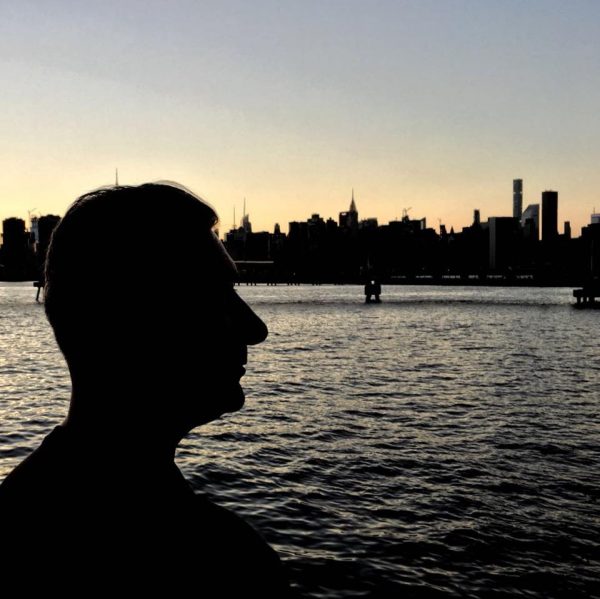 L'esperienza di diggin a New York è un must. Ogni appassionato di vinili usati ha sognato almeno una volta di immergersi nei negozi di dischi polverosi, con materiale accatastato ogni dove, specialmente in quelli periferici della Grande Mela. La mia visita si è limitata a tre soli negozi di usato, e due, di cose ricercate, ma nuove.
Primo della lista del diggin tour, il negozio 'turistico' per eccellenza, e cioè l'A1 a Manhattan, dove, per gli amanti della black music, c'è tantissimo, ma per i collezionisti ben forniti, qualcosa.
Una buona scelta di dischi a tutti i prezzi, ma generalmente poco elevati, a parte le chicche esposte, che al massimo non superano i 500$. La caccia grossa viene fatta, non negli scaffali in ordine alfabetico, ma in quelli dentro le cassette a terra, dove tutto è alla rinfusa, la conservazione non è ottimale, ma il costo è bassissimo. Fantastica sezione di 7" Reggae e Soul, e di singoli Hip Hop. Per i più malati (come me), anche le ceste davanti all'ingresso, sulla strada, possono riservare ottime sorprese.
https://www.youtube.com/watch?v=4ita3VaF0IA
Il bottino è stato buono, qualche 12" Disco, ed un po' di album Funk e Jazz, il disco più figo in rapporto qualità prezzo (16$) Joe Thomas 'Feelin's from Within'.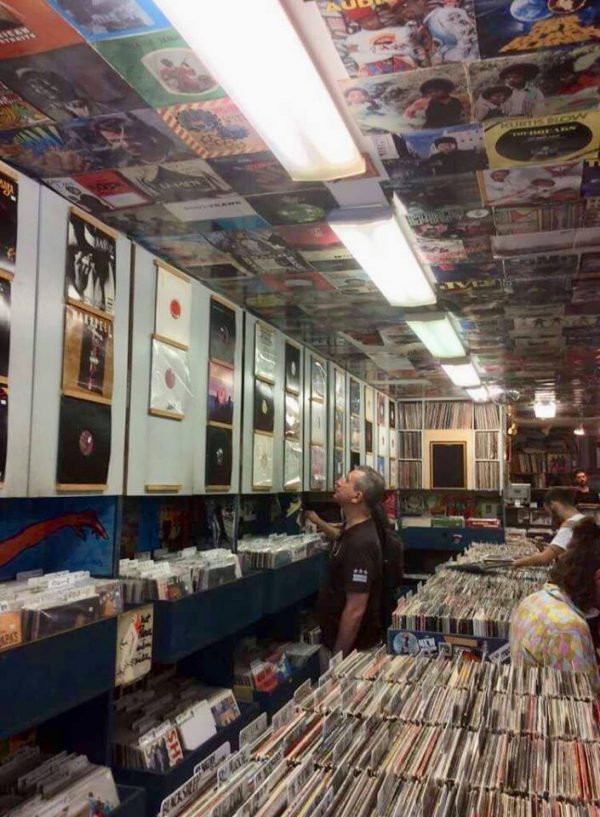 ---
Secondo negozio d'usato, Superior Elevation, quello del produttore/DJ Tom Noble, situato in una zona di Williamsburg (Brooklyn) verso est, dove sembra di essere lontanissimi da tutto e da tutti.  In mezzo a capannoni, camion giganteschi in movimento, cantieri e strade semi deserte, trovate un insegna con scritto Records, e sotto, la porticina che vi conduce ad uno semi scantinato con migliaia di dischi. Qui la scelta è simile ad A1. Moltissima musica Black, Hip Hop, tantissimi 12" Disco e Funk suddivisi per etichette major ed indipendenti. Presente la sezione rock, colonne sonore, sette pollici, album reggae e jazz. Prezzi ottimi, a parte le rarità esposte (massimo 400$), ed anche qui trovate gli album in ordine alfabetico, e le cose a basso prezzo nelle cassette a terra. Dietro al bancone può farti il conto sia Tom Noble, oppure Peter, il chitarrista degli Underground System, che gentilmente ti scontano sul totale il prezzo di un'altro disco.
Anche da qui ho portato a casa ottime cose…top del diggin' qualità/prezzo il dodici pollici di Air Power – Be Yourself a 15$ come nuovo.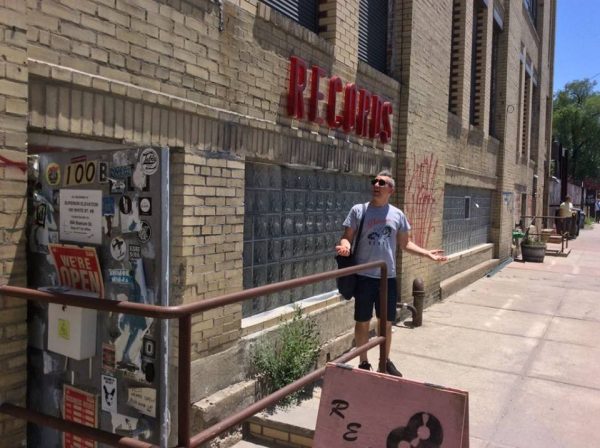 ---
Nel terzo negozio d'usato ci sono stato due volte, perché a mio gusto il migliore, e cioè Human Head, poco lontano dal precedente, sempre a Williamsburg (Brooklyn).
Rispetto ad A1 e Superior Elevation, più piccolo, ma con prezzi decisamente bassi. Rarità esposte fantastiche, e sezioni con album e singoli da 1$ o 5$. Qui è dove ho speso meno e razziato di più.
La caratteristica famigliare del vero negozio di dischi dei tuoi sogni, è, in questo luogo, realtà. Aperto ad ogni orario (la seconda volta ci sono rimasto dalle 11 di sera fino alle 2 di notte), e con personale squisito…ti vengono offerte birrette, oppure ci si perde in disquisizioni sulle produzioni con i commessi, come sulla scena Italiana del Cosmic, o parlando dei 7" brasiliani rari, come di fantastici dischi mai visti di formazioni oscure Disco underground.
Principalmente si trova Funk, Disco e Jazz, ma anche molte cose di Krautrock, Rock psichedelico, ed una sezione sette pollici brasiliani da piangere.
Ottimo bottino anche qui, principalmente di Funk, Disco, Jazz e Brasil, con punta massima in due album della mia label preferita di sempre, a prezzi ridicoli: Steve Reich 'Music For 18 Musicians' e Ralph Towner 'Solstice'…circa 10$ per entrambi.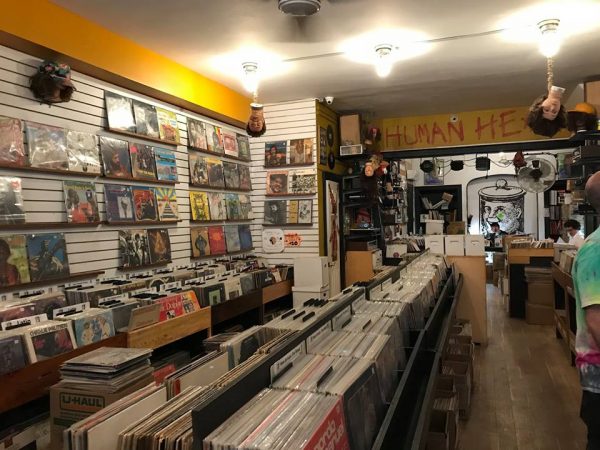 ---
I restanti due negozi che ho esplorato, sono di musica nuova (o ristampe), molto ricercata e per lo più di stampo sperimentale, entrambi a Manhattan Down Town.
Commend a Low Eastisde è una fantastica oasi dove puoi scoprire una selezione di vestiti, libri, come di vinili e cassette. Questo negozio fa capo alla label RVNG intl, e puoi trovare solo articoli selezionati, tra avanguardia elettronica, ambient e free jazz. I prezzi sono normali, come in qualsiasi negozio di dischi nuovi italiano, ma anche qui l'atmosfera fa la differenza. Migliore acquisto, la ristampa di un singolo italiano inizio anni 80': Meo 'Fine Corsa'.
Il successivo, 2 Bridges, è un negozio principalmente di fantastici libri, ma ha una sostanziosa sezione di vinile, non solo di recente uscita, o ristampe, ma anche un piccolo reparto di dischi usati selezionatissimi. Situato nella zona cinese di Manhattan, devi salire con l'ascensore in una specie di mall abbandonato con vetrine dismesse, in vero stile centro commerciale pechinese. Il tutto si svolge in una stanza con pochi, ma fantastici articoli…ottimo free jazz, jazz sperimentale, ambient, krautrock ed una nutrita selezione di musica etnica, sia asiatica che africana. Qui ho trovato il terzo gioiello ECM della mia caccia d'oltreoceano, per la modica cifra di 15$: Jan Garbarek 'Legend Of The Seven Dreams'

Tutto sommato, lo shopping nella Grande Mela è stato soddisfacente. Il divertimento nello scavare tra le pile impolverate è assicurato, e puoi portarti a casa materiale buono, come raro, per una cifra onesta. Il segreto per scovare sempre cose buone, è tornare una volta al mese…magari!