Ultimo appuntamento con le interviste di Alain dei Winter Dies In June rivolte ai gruppi di Rock The Baita 2018, dopo gli svedesi Barbarisms e gli inglesi Desperate Journalist restiamo in UK per confrontare qualche risposta dei Fresh. Arrivano prima di un tour in acustico che faranno a Settembre in Inghilterra, il quartetto (George Phillips e Daniel Goldberg rispettivamente basso e batteria che si sono aggiunti successivamente al duo formato in partenza da Kathrine Woods e James Rowland) suona punk freschissimo ma con testi adulti e a volte arrabbiati. Il loro album omonimo di 11 tracce lo trovi disponibile qui in bundle con una bellissima zine e tshirt, mentre il 31 Agosto uscirà "Daytime/Nighttime" che ti potrai portare a casa sempre in una special edition con tshirt e patch che spacca davvero tanto. Comunque stiamo tirando troppo per le lunghe e vi lasciamo all'intervista, per il live ci si vede sabato 25 a Rock The Baita.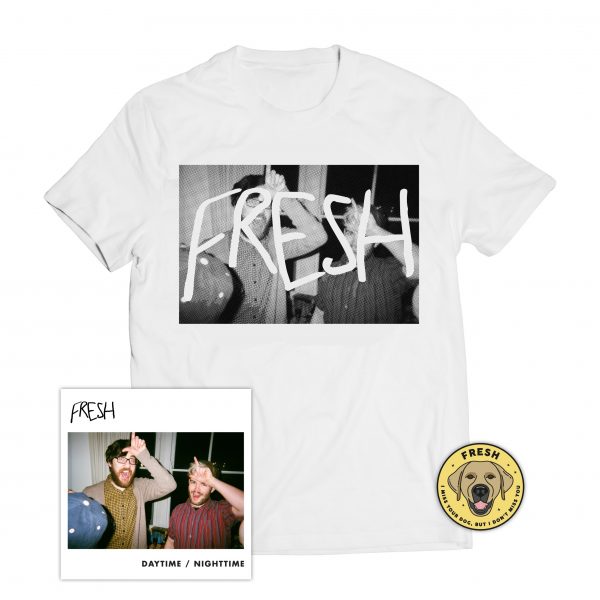 ---
Sound like it's a very busy period for you guys…How can you grasp and give a place to all the people, situations, kissing and sweating you're bumping into?
We are busy, but going around the country (and continent) meeting new people and playing to new audiences is the most fun part of being in a band, so it makes it worthwhile.
Do you think your songwriting and punk in general owes real life almost everything or there's room for fiction as well?
I use lots of fiction in my writing as well as real life experiences. Both are valid and I don't think it's possible (or at least, it would be very difficult) to solely write about real life or just write fiction. I think punk is a mix of both.
Festival dos and don'ts
DO – take every opportunity to shower, get a good nights sleep, and see as many bands as you can.
DON'T – cover yourself in mud and tie-dye, like some sort of festival casualty.
An Italian stereotype you would to prove wrong, and one you want to prove right.
We are looking forward to the food! I can't think of any negative stereotypes that we would wish to disprove.
Best festival you ever attended? For what reason?
In the UK there is a DIY festival called Indietracks, it's like a holiday camp for all of the UK punk and indie bands. Everyone gets together and has a big game of football before the bands start. It's a lot of fun!