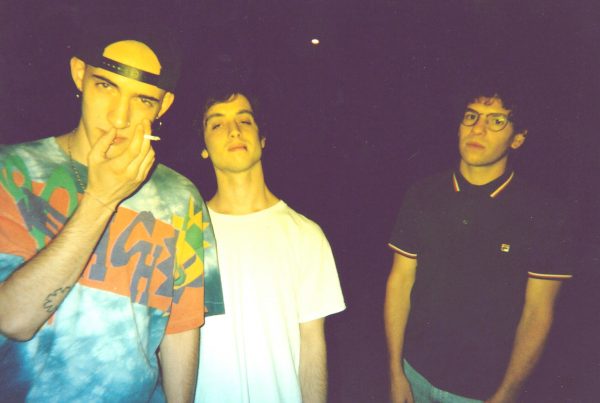 I Cactus? li abbiamo conosciuti con quella storia che ha fatto il giro del mondo, quando lo sconosciuto Bodhi in USA ha cantato su una traccia del gruppo vicentino, il singolo su you tube nel giro di poche ore ha frantumato ogni record. Nascono come band indie lo-fi capace di usare synth ed effetti in modo efficace, il loro ultimo  EP "Sorry for my accent" è trascinante ed emerge una certa freschezza e indipendenza, i tre si staccano da quella che è la moda del momento per indirizzarsi verso sonorità più dance e new wave. Dopo il salto due chiacchiere per sapere qualcosa in più su di loro
---
Con Sorry For My Accent siete partiti dalla provincia di Vicenza e siete finiti ovunque, da una playlist di Domino Rec. ad un feat con più du 100k views su Youtube passando per Radiodeejay. Raccontateci la vostra storia pazzesca.
In realtà non c'è molto da raccontare. Abbiamo cominciato a registrare Sorry For My Accent da soli in casa per fare in modo che le canzoni fossero il più possibile simili a come le immaginavamo nella nostra testa, con uno stile lo-fi pur sapendo che spesso non è compreso o ben accettato da chi ascolta. Non abbiamo idea di come Domino Rec. sia arrivata al nostro EP ma quando abbiamo visto che eravamo nella loro playlist non riuscivamo a crederci. Poi, lavorando alle pre-produzioni di canzoni per il prossimo EP, Simone ha caricato qualche traccia su Soundcloud e là Bohdi ci ha trovato. E'uscito il video di Amazing Pt.1 ed ha avuto molto più successo di quello che ci aspettavamo.
Per essere una band italiana del 2017 avete un sound ed un'estetica non certo usuali. Chi vi ispira tra gli artisti di oggi? A chi vi rifate? Qual'è l'immaginario dietro le vostre canzoni?
Nel periodo di produzione di Sorry For My Accent ci siamo ispirati molto a gruppi come Rat Boy, Wavves, Bloc Party, Only Real. Con il tempo ci stiamo avvicinando più al dance o al new rave grazie ai Late of the Pier, Shitdisco e Does it offend you, yeah? . Dietro le nostre canzoni non c'è un immaginario preciso o che abbiamo scelto di seguire, cogliamo ispirazione da situazioni che viviamo nella nostra vita particolare o meno, come penso faccia ogni persona che scrive una canzone. Ci piace molto lo stile analogico nei video e nelle foto e proviamo ad utilizzarlo in tutto il materiale che pubblichiamo.
Siete entrati a far parte del roster di BPM Concerti e il 18/10 uscirà per Costello's Rec il vostro nuovo singolo. Parlate del nuovo materiale. Siete soddisfatti?
Certo! Siamo riuscite ad inserire la nostra attitudine dance/new rave senza stravolgere il nostro stile, almeno secondo noi. Abbiamo aggiunto un sacco di sintetizzatori e campionatori, diciamo che abbiamo sperimentato molto. Stiamo ancora terminando la registrazione di qualche canzone del prossimo EP.
In Italia grazie al lavoro di label (più o meno) indipendenti si è creato un panorama impensabile fino a pochi anni fa; la gente sta tornando a supportare i progetti dal basso, nascono nuovi festival e si creano nuove opportunità. Cosa ne pensate della scena italiana di oggi?
Sicuramente è una buona cosa che si sia creato hype attorno alla musica emergente. Non ascoltando musica italiana ci sembrano un pò tutti uguali i cantautori indie ma comunque è solo questione di gusti. Diciamo che non ci sentiamo molto parte di questa scena emergente.
Cosa vi aspettate dal 2018?
Non ne abbiamo la minima idea. Speriamo di suonare il più possibile, di pubblicare tutte le canzoni a cui stiamo lavorando e di trovare il nostro spazio nella scena attuale.