Il 21 Ottobre gli Aftersalsa usciranno con il loro primo EP "Chances", Dario Azzollini, Matteo Zappa, Nicolò Posenato e Simone Manzotti ci spiegano come si sono incontrati e dove vogliono arrivare. Le ambizioni ci sono e hanno ragione, il suono dark wave ben costruito in studio è un buon inizio, aspettiamo di apprezzarlo anche dal vivo e su palchi importanti.
---
Raccontateci come vi siete conosciuti, dove nascono precisamente Aftersalsa e la loro musica …oltre a confessarci il motivo e la scelta del nome.
Suoniamo insieme nella formazione attuale da nemmeno un anno, anche se ci conosciamo da molto più tempo. Per tre quarti suonavamo insieme negli Ophelia's Nunnery mentre Nicolò era il chitarrista degli Hooks, e ci siamo conosciuti, come succede quasi sempre, suonando agli stessi eventi. Facevamo indie-rock, quello con le chitarrine, poi abbiamo deciso di cambiare completamente: genere, lingua, strumenti. Se vogliamo essere precisi Simone e Matteo avevano già iniziato a scrivere qualcosa in precedenza, tutto rigorosamente DIY anche perché molti pezzi sono nati di notte, spesso fermi in qualche parcheggio, con un computer, un microfono, delle tastierine e tante Peroni. Il nome è uno scherzo del destino e non ha nulla a che fare con la musica latino americana; però ci piaceva e alla fine abbiamo deciso di tenerlo. Diciamo solo che c'entrano gli after nei parcheggi citati prima e c'entra il fatto che eravamo a fine Agosto.
Abbiamo visto il video di "White Collar" , vogliamo sapere di più sul messaggio del contenuto e se dobbiamo aspettarci nuovi video anche per gli altri singoli dell'Ep in arrivo.
Abbiamo scelto White Collar come primo singolo per mettere bene in evidenza l'idea di fondo di tutto l'ep. In più abbiamo avuto la fortuna di collaborare con Simone Biagini e Debora Agerba che sono riusciti a legare le immagini alla canzone in maniera strepitosa; praticamente ci hanno letto nel pensiero. Il leitmotiv di tutto è il colore bianco, quel bianco delle lampade a neon di notte per le strade di Milano, il bianco dei white collar workers e della loro vita notturna. Ci è piaciuto anche giocare con l'ambiguità della traduzione colletto/collare e il video parla da sè. Abbiamo anche delle idee per un prossimo clip e stiamo cominciando a metterle in atto. Probabilmente sarà ancora più notturno.
Arriviamo a parlare di "Chances" l'EP in arrivo il 21 Ottobre, cosa dobbiamo aspettarci dalle tracce che non abbiamo ancora avuto il piacere di ascoltare? Dobbiamo tenere comunque i riferimenti sonori di  "Vixion" e "Tispario" o qualcosa nel frattempo è cambiato ?
Vixion e Tispario sono un antipasto e Chances segue le stesse linee guida, quell'atmosfera dark e fredda che tanto ci piace anche se sicuramente qualcosa è cambiato e White Collar un po' lo dimostra. Abbiamo alleggerito molto quei muri di suono che caratterizzavano i due singoli usciti quest'inverno e abbiamo eliminato tutto ciò che poteva essere superfluo, questo grazie anche alla produzione di Giacomo Zambelloni (Every Body on the Shore). Poi Matteo si è riscoperto un po' Drake, quindi c'è anche un tocco di R'n'B.
Ovunque il vostro sound è catalogato alla voce synth wave, spiegateci chi suona cosa all'interno del gruppo… e se c'è qualche polistrumentista. Come nasce il suono degli Aftersalsa, quello che a nostro parere vi inquadra meglio nella dark wave?
Synth wave perché i sintetizzatori sono la pasta sonora portante di tutti pezzi. Le canzoni alla fine nascono in studio con beat, bassline e synth, poi sopra costruiamo tutto il resto, dalle la voci, ai samples e le chitarre. Diciamo che la vera mente compositiva del gruppo é Simone, nascosto dietro ai suoi mille sintetizzatori, poi Matteo alla voce, basso e percussioni, Nicolò ai synth&programming e Dario alla chitarra. Questo è quello che il linea di massima succede nel live anche se in studio non c'è distinzione e ognuno mette le mani un po' su tutto.
Vi auguriamo un tour lungo e faticoso dopo l'uscita dell' EP …è previsto ? E a questo punto siamo alla fine delle nostre cinque domande, è arrivato il momento di chiedervi qualche preferenza. Quindi, diteci 3 venue dove assolutamente mirate a suonare per la prima volta.
A Giugno siamo stati al Primavera Sound a Barcellona, e non neghiamo che ci piacerebbe vedere il nostro nome, scritto anche in piccolo piccolo, sul cartellone della programmazione. Tornando in Italia Spring Attitude e Club to Club sono due realtà in cui speriamo di intrufolarci.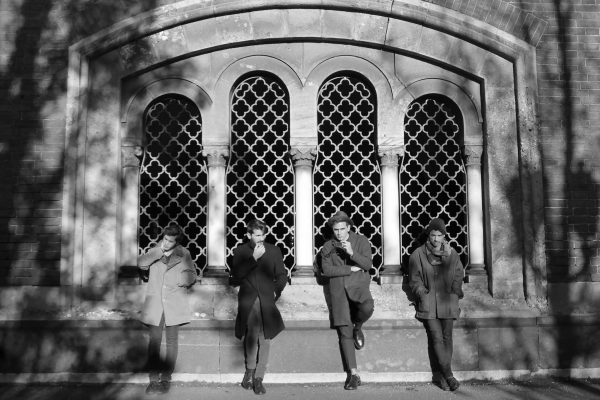 ---
Il secondo singolo "I Wanna" di "Chances" EP è disponibile in FREE DOWNLOAD qui.