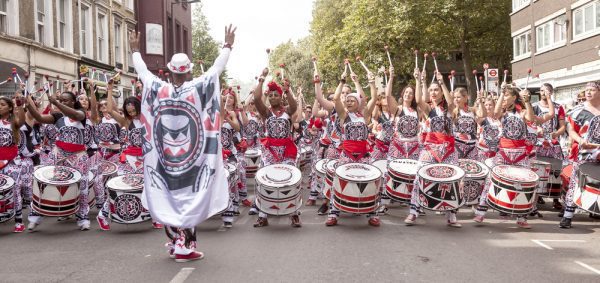 "System" è un'installazione audio/video che celebra il Carnevale di Notting Hill, soprattutto punta a demolire le leggende negative attorno alla manifestazione. Il cantante di Brixton si basa prima di tutto sulle sue esperienze personali, il materiale recuperato invece appartiene al Black Cultural Archives di Brixton. Gaika esprime chiaramente la passione che travolge la comunità in quel preciso momento:
"I'm a second generation Caribbean immigrant, I grew up waiting on that day in summer when every tube train would be filled with faces like mine, eyes locked in silent acknowledgement, all heading to the same destination with the same purpose," he says."
I visitatori potranno connettersi alla "scultura audiovisiva" tramite il jack e lasciare la loro preferenza musicale che poi verrà ricondivisa dall'installazione stessa. Sono previste anche alcune esibizioni ogni giovedì del mese di Agosto, l'installazione infatti sarà attiva dall'1 al 26 Agosto, giorno del Carnevale di Nothing Hill 2018. Spizza il dj set di Nasty Love alla scorsa edizione e fai un ripassino sull'album di Gaika in arrivo il 27 Luglio.
---
ASCOLTA "CROWN & KEY" DAL DEBUT ALBUM DI GAIKA IN ARRIVO SU WARP